Perfect for creating deep pour castings like live edge river tables and ocean tables—cures to a clear, glass-like finish!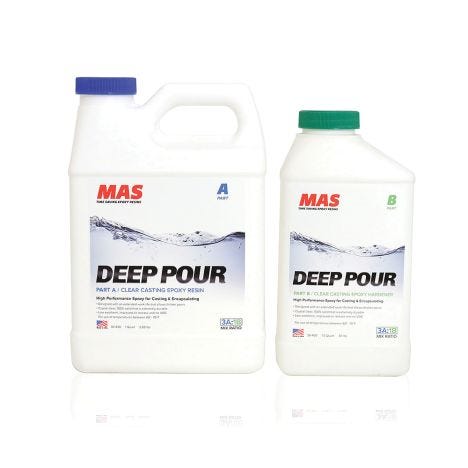 MAS Deep Pour Epoxy is specifically designed for molding, encapsulating and creating deep pour castings, such as those used on live edge river tables and ocean tables. It cures slowly to a clear, glass-like finish that resists scratching and yellowing. The extended gel time minimizes exotherm and improves air release for the clearest possible results. For ocean and river tables, MAS Deep Pour is the epoxy resin to reach for.
Features:
Maximum casting thickness per pour is 1/2'' to 1'' at 70˚F (subject to multiple variables, consult the instructions for more info)
Thicker castings can be achieved with multiple pours
Improved air release for minimal air bubbles
Can be sanded and machined after 24-48 hours
Two-component system composed of 100% solids, with a 3:1 by volume mix ratio
IMPORTANT NOTE: This is an advanced deep pour epoxy resin system. DO NOT use Deep Pour Resin in working temperatures above 75°F. Please take into consideration the volume of epoxy you pour into a void. Pouring too much epoxy into a large area may result in shrinking, yellowing or cracking. Prior to using Deep Pour Epoxy, it is recommended that you seal any wood or porous surfaces with Penetrating Epoxy Sealer (#60727, sold separately). This will reduce the risk of air bubbles and foam during cure.
Do not apply oil based stains to surface prior to applying epoxy. Coating oil based stains with epoxy will result in surface imperfections and adhesion issues.
CAUTION EXOTHERMIC REACTION: Mixed epoxy generates heat. The more you mix, the hotter it will be. Must use after mixing. Only mix what you are ready to pour. May fume and smoke. Please visit the online FAQ before starting your project.
(1) MAS Deep Pour Epoxy Kit
More Information
Brand
MAS Epoxies
Tech Spec

Brand: MAS Epoxies
Manufacturer Part Number: 30-420
Mix Ratio: 3:1
Cure Time to Sanding: 24-48 hours
Maximum Casting Thickness (per pour): 1'' (depending on conditions; see instructions)