Just one pour makes your table look like it has 50 coats of varnish—seals, protects, and provides a luxurious wet look.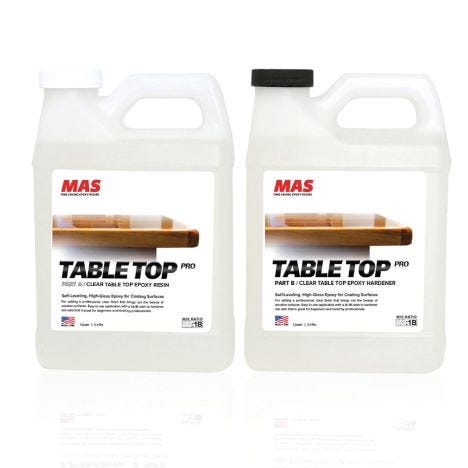 If you want your table to look like it has 50 coats of varnish with just one pour, look no further than MAS Epoxies Table Top Pro. Table Top Pro is a clear epoxy resin coating with a glass like finish and an easy 1:1 mix ratio. The epoxy resin goes on in thick, self-leveling pours, making it easy to get an alluring clear finish. If you're looking for an epoxy that will protect your table top and provide a luxurious wet look, reach for MAS Epoxies Table Top Pro.
Features:
An easy to use, two part epoxy table top finish that is clear, self-leveling, and cures at room temperature
Great for tables, bar tops, furniture, signs, artwork and more
Compatible with color pigments, alcohol ink and acrylic paints
Simply pour and spread evenly, covering the entire surface, for a beautiful glass like finish
Resists scratching and yellowing
Do not apply oil based stains to surface prior to applying epoxy. Coating oil based stains with epoxy will result in surface imperfections and adhesion issues.
CAUTION EXOTHERMIC REACTION: Mixed epoxy generates heat. The more you mix, the hotter it will be. Must use after mixing. Only mix what you are ready to pour. May fume and smoke. Please visit the online FAQ before starting your project.
(1) MAS Table Top Pro Epoxy Kit
More Information
Brand
MAS Epoxies
Tech Spec

Brand: MAS Epoxies
Mix Ratio: 1 to 1 by volume
Working Time: 20 minutes at 70°F; 30 min working time at 75°F
Color: Clear
Coverage: 1 Gallon kit covers 12 sq ft with an 1/8'' coating
Time to Sanding: Sandable after 24 hours at 75°F