Micro Jig GRR-Ripper® Push Block GR-200 with Gravity Heel Kit
Provides unrivaled safety and control—included Gravity Heel Kit drops down to provide zero-clearance support.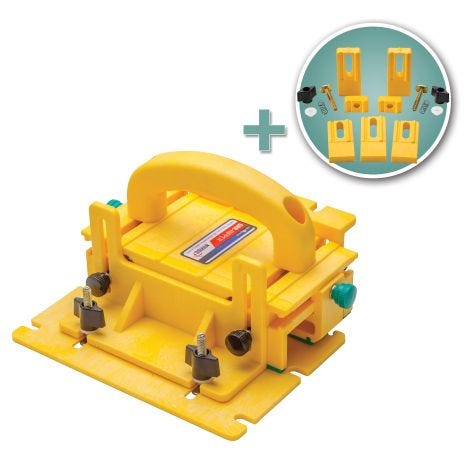 This advanced model of the GRR-Ripper boasts all of the same innovative features of the GR-100 but comes with three additional accessories (see below)—including the Gravity Heel Kit—to improve the control and expandability of the GRR-Ripper System. The Micro Jig GRR-Ripper Advanced 3D Pushblock (GR-200) is designed to feed your workpiece more safely and more accurately than with conventional push blocks, resulting in intact fingers, less burning and less waste. With its 3-Directional control, it gives you downward, forward, and lateral pressure on the stock for maximum control. Since it acts as a movable blade guard that travels with your hand, it provides an additional safety buffer between the blade and your hands. Whether you are making razor-thin veneer strips, building miniatures, or creating exquisite furniture you will save time, materials, and fingers with the GRR-Ripper.
This package includes these additional accessories:
The Gravity Heel Kit provides a positive hook that grips the end of your board, ideal when you need additional support for feeding hard or heavy stock through your saw. The heel drops down automatically, aided only by gravity, and retracts when placed in the middle of the board. It can also be adjusted laterally to provide zero-clearance backup support to prevent grain blowout. Five sacrificial heels are included, plus two heel spacers and mounting hardware.
The Adjustable Spacer adds increased gripping surface for tackling larger stock. It also adds one inch of cutting width to the GRR-Ripper and acts as a secondary balance support for small stock and straight-line ripping. Great add-on for working on the router table, and eliminating snipe.
The Stabilizing Plate adds a new dimension of control to the GRR-Ripper. It is particularly useful when cutting small narrow pieces of stock. Perfect for trickier cuts like resawing, bevel edging, pattern routing, and much more. It also acts as a secondary fence that travels with the GRR-Ripper along the left side of the stock. It holds the off-cut piece in its original position through the entire cutting operation. Some users call it a "Feather Board Plate," but unlike a featherboard, it exerts no sideways pressure. Instead it simply holds the drop-off piece in position as it travels past the blade, preventing binding.
Click the video to see a demo today.
GR-200 Push Block:
(1) Micro Jig GRR-Ripper Advanced 3D Pushblock
(1) 1/4'' side leg
(1) 1/2'' side leg
(1) Adustable center leg
(1) Adjustable 1'' fence-side spacer
(1) Stabilizing accessory plate with balance unit
(1) Comprehensive Users Manual
Gravity Heel Kit:
(5) Grr-Ripper Gravity Heels
(2) Heel Spacers
(2) Tool-Free Knobs
(2) T-Bolts
(2) Springs
More Information
Brand
Mirco Jig
Manufacturer Part Number
30737/ 55925
Weight
2.950000
Tech Spec

Manufacturer Part Number: GR-200
Weight (lbs): 2.5000