Mini Sure-Foot® Conversion Kit for Clamp-It® Bar Clamps
Provides a stable base for your Clamp-It Bar Clamps—screw the brackets down to create jigs and fixtures.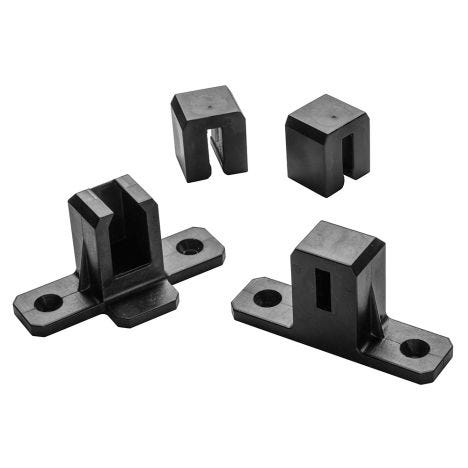 NOT compatible with the 4'' Mini Bar Clamp (#20201).

Our Mini Sure-Foot® Conversion Kit keeps your Clamp-It® Bar Clamps from falling over during glueup—the dreaded domino effect. The attachments snap securely onto both ends of the clamp (sold separately) to provide a stable footprint that can be screwed down to your workbench or fixture if needed. In addition, the added height provides more knuckle clearance when tightening the clamp. Also included are two sliding spacer attachments, which slip onto the bar to center thinner stock between the jaws. These help to keep thin stock flat and properly aligned when pressure is applied. The kit is ideal for assembly of smaller projects. The ability to create customized clamping fixtures will greatly speed your assembly process, and clear your workspace of excess clutter.
Features:
Provides stability to keep your Clamp-It® Bar Clamps from falling over
Mounting holes let you screw the clamps down in fixed positions to create custom clamping fixtures
Raises the height of the clamp handle to provide knuckle clearance when tightening
Includes sliding spacers to help center thin stock between the jaws
Integral storage hook lets you hang the clamp when not in use
Compatible with Clamp-It® Bar Clamps only (#61003, #35335 and #36153, sold separately)
(2) Sure-Foot mounting brackets
(2) Sliding spacers/risers
More Information
Weight
0.200000
Tech Spec

Compatible Clamps (sold separately): #61003, #35335, #36153
Material: Reinforced polymer