Mixol Universal Tint, 20ml Bottle
Concentrated tints mix with almost anything—epoxy, topcoats, stains, shellac, tung oil, filler and much more—to provide vivid color for your projects.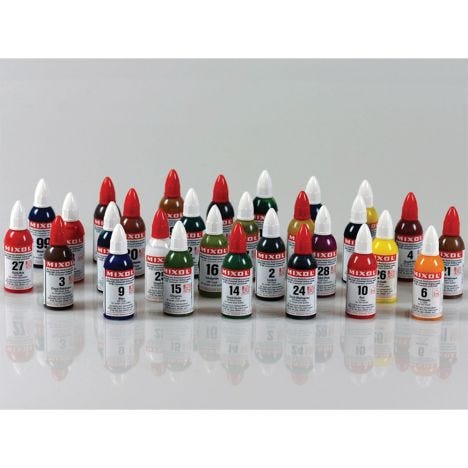 Mixol® is a universal colorant that mixes quickly into water-based, oil-based, or solvent-based stains, finishes, epoxy, filler, gel stains, gel polyurethanes, French polish, wax, glue, paint and more. It is sold as a concentrated liquid—just a drop goes a long way. Use it to color wood and many other materials. Thanks to its finely ground pigment base, it can be used to create or intensify nearly any hue or tint. Unlike other types of colorants, it contains no binder, just pure color in a universal solvent. That means that it will mix with almost anything, and that it has an extraordinarily long shelf life and high resistance to heat or frost damage.
Features:
Mixes with oil, water, solvents, lacquer, shellac, water-based coatings, quality oil-based varnishes and polyurethanes, putty, pore filler and wax to make paints, glazes, stains and toners
Colors wood and many other materials
Cleans up quickly with just soap and water
Non-flammable and highly resistant to heat or frost damage
No binder means it won't dry out or thicken over time
Saturated colors and dark tones can easily be achieved. A few drops go a long way!
Mixol combines easily in many mediums, and once fully dispersed, stays in suspension
Mixol provides free color charts, no color is ever changed or discontinued
Note: Most Mixol colors are highly fade-resistant. However- #6 Maize Yellow, #7 Canary Yellow, #10 Red and #18 Orange may fade with exposure to sunlight.
For lightfast alternatives to these colors, choose #26 Fast Yellow, and #27 Fast Red. The 15 colors with ''Oxide'' in the title (look for the red caps) are totally lightfast exterior-grade colorants made from inorganic pigments. In addition to the usual materials, the Oxide colors can tint more complex materials like grout, silicone, chalk paint, lime plaster and even concrete.
(1) Mixol Universal Tint, 20ml Bottle
More Information

| | |
| --- | --- |
| Tech Spec | |