Mixol Universal Tint Kit, Colors #13-24
These highly concentrated tints mix with almost anything—topcoats, stains, putty, filler and more—to provide vivid color for your projects.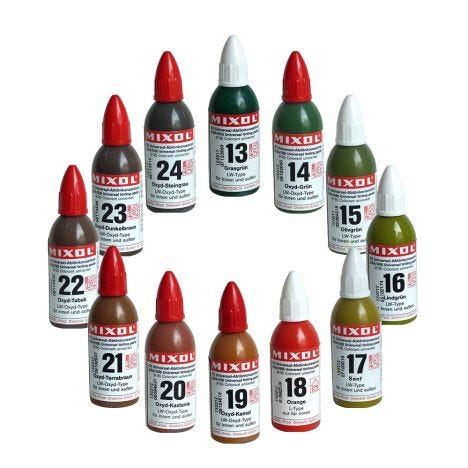 Mixol® is a universal colorant that mixes quickly into water-based, oil-based, or solvent-based stains, finishes, putty, filler, and even gel stains, gel polyurethanes and French polish. It is sold as a concentrated liquid—just a drop goes a long way. Use it to stain or dye wood and many other materials. Thanks to its finely ground pigment base, it can be used to create or intensify nearly any hue or tint. Unlike other types of colorants, it contains no binder, just pure color in a universal solvent. That means that it will mix with almost anything, and that it has an extraordinarily long shelf life and high resistance to heat or frost damage.
Features:
Includes 12 distinct colors (#13 through #24), seven of which are oxide-based (#14, #19, #20, #21, #22, #23, #24) for colorfastness, fade-resistance and weatherproofing in exterior applications
Mixes with oil, water, solvents, lacquer, shellac, water-based coatings, oil-based varnishes and polyurethanes, putty, pore filler or wax to make paints, glazes, stains and toners
Dyes wood and many other materials
Cleans up quickly with just soap and water
Non-flammable and highly resistant to heat or frost damage
No binder means it won't dry out or thicken over time
Mixol Universal Tint Kit, Colors #13-24
(1) 20mL bottle of #13 Grass Green
(1) 20mL bottle of #14 Oxide Green
(1) 20mL bottle of #15 Olive Green
(1) 20mL bottle of #16 Lime Green
(1) 20mL bottle of #17 Mustard
(1) 20mL bottle of #18 Orange
(1) 20mL bottle of #19 Camel
(1) 20mL bottle of #20 Oxide Chestnut
(1) 20mL bottle of #21 Oxide Terra Brown
(1) 20mL bottle of #22 Oxide Tobacco
(1) 20mL bottle of #23 Oxide Dark Brown
(1) 20mL bottle of #24 Oxide Stone Grey
More Information
Manufacturer Part Number
Mixol/13-24
Weight
1.400000
Tech Spec

Brand: Mixol
Manufacturer Part Number: Mixol/13-24
Quantity per Bottle: 20 mL
Colors: Grass Green, Oxide Green, Olive Green, Lime Green, Mustard, Orange, Camel, Oxide Chestnut, Oxide Terra Brown, Oxide Tobacco, Oxide Dark Brown, Oxide Stone Grey