Norton Double Sided Waterstones
Put a sharp edge and mirror finish on your tools and knives—four grits to the perfect edge!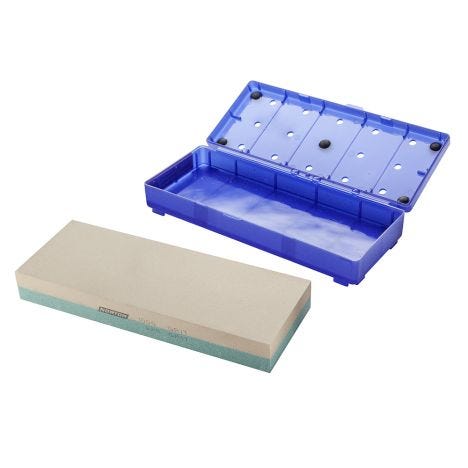 These double-sided waterstones make up the four-stone Norton Waterstone System. Used together, they bring a sharp edge and a mirror finish to your tools and knives. Since they use water as a lubricant and flushing agent, Norton Waterstones are easier to clean than oilstones and won't leave an oil residue on your tools. They cut and resurface quickly, making sharpening and stone maintenance fast and easy. Use lighter pressure on these stones than on oilstones or other types of waterstones to take advantage of the premium abrasive and fast cut rate. Just let the stone do the work. Instructions are included. Made in USA.
Features:
Generously sized at 3''W x 8''L x 1''H for longer wear and faster, more comfortable sharpening
Ideal for sharpening chisels, plane blades, gouges, knives, carving tools, axes, hatchets, scissors and shears
Double-sided combination waterstones are easy to use—each is a standalone system with a coarse and fine side
220-grit and 1000-grit stones are ideal for edge repair
4000-grit and 8000-grit stones are ideal for maintaining the sharpness of an edge
(1) Norton Combination Waterstone, 3''W x 8''L x 1''H
(1) Plastic Case/Water Bath
(1) Set of Instructions
More Information
Brand
Norton
Weight
1.000000
Tech Spec

Two Grits for Edge Repair:

220-Grit: The coarsest stone in the series is used to repair large nicks or to change the shape of a blade. Because it is so porous, it needs to be soaked and should have water splashed on its surface often.




1000-Grit: This stone cuts quickly to establish the edge geometry, yet doesn't create deep scratches that would be hard to remove in the next stage. It is the first stone you'll need for most new blades to refine the grinding marks left by the manufacturer.




Two Grits for Edge Maintenance:

1000-Grit: The 4000-grit is a unique sharpening stone. Although it's a fine grit, it is designed to cut, not polish. It leaves a refined edge that can be brought to a mirror finish quickly on the 8000-grit stone. Use the 4000-grit stone before final polishing, for a more consistent, longer lasting edge.




8000-Grit: the 8000-grit has been designed to give a non-slippery, controlled feel to this important step. When used in conjunction with the 4000-grit stone, it creates a polished, long lasting edge in a very short time. Mirror finishes that were hard to achieve are at your fingertips.

Size
8"