Oxidizing oils darken wood over time, creating a deep, rich patina—makes dark colors pop!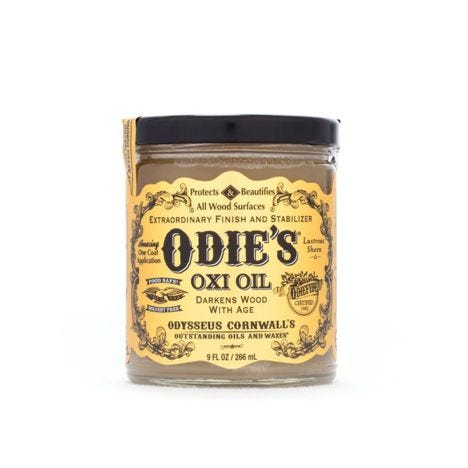 Shipping Restrictions: Ground Transportation Only.

Odie's Oxi Oil contains natural oxidizing oils that darken wood as it ages. Results are not instantaneous, but over time, the dark depth and rich patina are such that results cannot be duplicated with stain. Oxi Oil creates fabulous contrast and adds remarkable vibrancy to darker woods such as mahogany. Like the original Odie's Oil, Oxi Oil is great for all species of wood, exotic and domestic, and works on even the oiliest of woods. Use alone or in combination with other Odie's oil finishing products to add polish and sheen. Recommended for interior use. Made in USA.
Features:
Easy to apply—just wipe on, wait a while, then buff
No driers or toxic chemicals—safe for families, kids and pets
Solvent-free, non-toxic and food-safe
A little goes a long way—with no solvents to evaporate, what you put on the wood stays there
Use on all wood surfaces and in combination with other Odie's oil finishes
Works great as a friction polish
Made by hand in small batches to ensure quality
What are Odie's Finishing Products Made From?
Odie's finishing products use the finest oils and waxes produced by nature to protect your wood surfaces. These oils and waxes evolved in nature to protect plants from the constant bombardment of the elements, insects, fungi and other organisms. The oils and waxes in Odie's Oil are at home in wood because wood is where they originally evolved. Odie's Oil brings you the best of nature, today's technology, and the time-tested knowledge of the ancient masters.
(1) 9 oz. Jar of Odie's Oxi Oil
More Information
Brand
Odie's
Manufacturer Part Number
OXI9OZ
Weight
0.900000
Tech Spec

Full Cur Time: 3 Days before use
Dry Time: 30 Minutes
Dry to Recoat Time: 1 Hour
Suggested Application: Cloth or brush
Food Safe
Solvent Free
Darkens wood with age

Dry Time
1 hr
Finish
Gloss
Use
Interior