Pocket Hole Joinery, Book
Simply put, pocket hole joinery simplifies woodworking—learn how with these helpful tips and 8 furniture projects.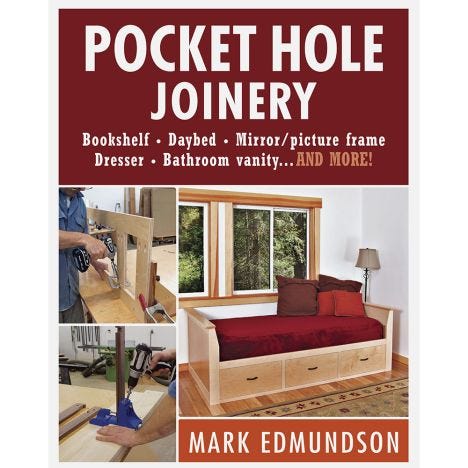 For beginners and master craftsmen alike, pocket hole joinery has become a favorite technique for holding everything from small projects to large cabinets together. The tooling guarantees a strong joint every time, and with the help of this easy-to-read guide, the techniques are easy to master. Pocket Hole Joinery teaches you everything from the basics, like selecting the proper jig and screws, to advanced techniques that you can put to the test by building everything from small projects that full-scale furniture. A must-read for beginner woodworkers and DIYers, Pocket Hole Joinery will simplify nearly everything about woodworking.
Content:
Introduction
The Basics of Pocket Hole Joinery
Blanket Bench
Mirror/Picture Frame
Built-in Bookshelf
End Table
Day Bed
Bed
Vanity
Dresser
Resources
Index
About the Author:
Mark Edmundson trained at the renowned College of the Redwoods Fine Woodworking Program. He is a teacher in Sandpoint, Idaho, and has been building furniture and cabinets professionally since 1998.
(1) Pocket Hole Joinery Book
More Information
Manufacturer Part Number
71463
Weight
1.350000
Tech Spec

Product #: 071463
ISBN: 978-1-62113-674-3
Published Date: 2014
Dimensions: 8-1/2 x 10-7/8
Photos: 363
Drawings: 21

Cover Style
Soft Cover
Pages
192
Topic
Beds, Benches, Bookcases, Chests, Furniture, Pocket Holes