Powermatic PM1250 Micro Dust Air Filtration System
Exceptionally quiet, portable, and most importantly, effective, filtering particles down to 0.1 micron in size.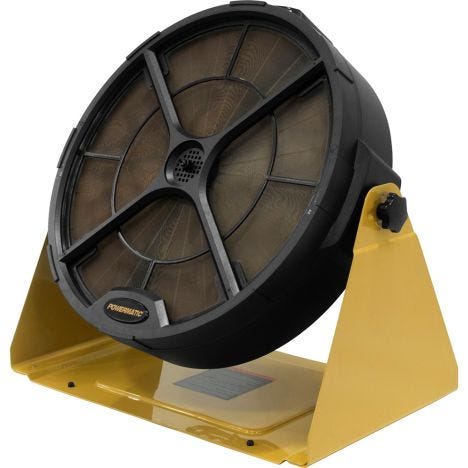 Additional Shipping and Handling Charge: $125
If you'd like to minimize the airborne dust in your shop, turn to the incredibly quiet and efficient PM1250 Air Filtration System. The PM1250 employs an electrostatic filter that attracts and removes particles as small as 0.1 micron in size. It cycles the air in a 680 square foot space—the equivalent of an oversized 2-car garage—up to five times in a single hour. When set at the lowest setting, the system is about as quiet as a library, and when on high, it's quieter than normal conversation. Unlike most other air filtration systems, the PM1250 is portable and freestanding, meaning you can carry it to wherever filtration is most needed, then simply set it on the floor or the bench. The angle is adjustable using the knobs on the side of the unit. If you like, it can also be mounted to the wall or ceiling.
Features:
Electrostatic technology filters particulate matter in the air down to 0.1 micron
Filter is specially designed to be easily vacuumed out, extending the filter life and lowering operating costs
Cycles air 5 times per hour in a 680 square foot area (oversized 2 car garage/shop)
Freestanding and portable—top-mounted handle allows easier carrying
Quieter than normal conversation at 50.8 dB on high speed setting
As quiet as a library at 41.3 dB on low speed setting
Over 3000-hour filter life—filter is easily accessible for cleaning and easily replaced when needed (#69905, sold separately)
Blades are specially engineered to increase airflow and reduce noise
Remote control allows activation from across the shop
Multiple speed settings for varying applications
Timer settings let you leave the unit on and clean the air for a period of time while you are away
Certified to CARB (California Air Resource Board) and Ozone emission standards
Energy Star Rated
(1) Powermatic PM1250 Micro Dust Air Filtration System
(1) Electrostatic filter
(1) Remote control
More Information
Brand
Powermatic
Manufacturer Part Number
1791331
Weight
52.000000
Tech Spec

Brand: Powermatic
Manufacturer Part Number: 1791331
Timer Settings: 4 (1, 2, 4, 8 hours)
Motor Voltage: 120V
Filter Type: Electrostatic
Clean Air Cycle Rate: 680 square feet, 5x per hour
Noise Rating: 50.8 dB (high)/41.3 dB (low)
Wattage: 29.7W (high)/10.6W (low)
Amperage: 0.31 (high)/0.13 (low)
Filter Life: 3,000 operating hours
Overall Size: 14'' x 29-1/8'' x 28-5/8''
Weight: 52 lb.
This item will ship directly from the manufacturer.
Must be shipped within the 48 contiguous United States.
Please allow up to 7 business days for your shipment to be prepared.
Additional shipping charges may apply and will be noted below the price.
Items shipped by truck are delivered to the curbside only.
25% restocking fee on all returned merchandise.
Please call customer service before returning product.

WARNING:
This product contains chemicals known to the State of California to cause cancer, or birth defects or other reproductive harm.
www.P65Warnings.ca.gov
.