Purdy Nylox Glide Soft Angled Paint Brush
100% dyed nylon filaments produce an ultra-smooth sheen with all latex paints—thicker handle offers more paint holding capacity.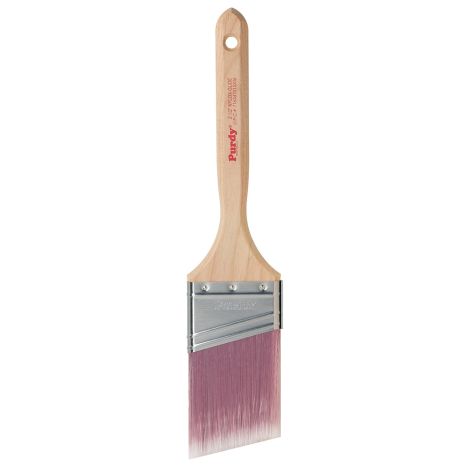 Nylox Brushes provide an ultra-smooth finish with all latex paints, and are particularly well-suited for semi-gloss and high-gloss finishes, where excellent leveling and tipping off are crucial. Nylox brushes are handcrafted with 100% nylon filaments from DuPont. Each brush is carefully tipped, and the bristles flagged for beautiful results and long-lasting performance.
Features:
Use with Semi-gloss to high-gloss latex paints
Great for interior windows, cabinets, doors and trim
100% dyed nylon filaments
Fluted handle with thicker cross section for comfort and paint holding ability
Handcrafted with pride in the USA
(1) Purdy Nylox Glide Soft Angled Paint Brush
More Information
Tech Spec

Brand: Purdy
Handle Style/Shape: Fluted (straight with chamfers)
Brush Shape: Angled
Brush Width: 2-1/2''
Brush Thickness: 5/8''
Bristle Length: 2-15/16''
Bristle Material: 100% dyed nylon
Ferrule Material/Style: Stainless steel/round edge
Handle Material: Wood
Use With: All latex paints (excels with semi-gloss to high-gloss)