A heavy-duty degreaser and cleanup solvent.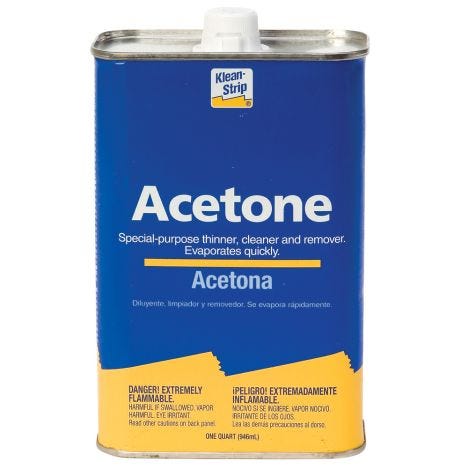 Shipping Restrictions: Ground Transportation Only.
Must be shipped within 48 Contiguous United States.

Acetone is the strongest consumer-grade solvent available. It is ideal for thinning fiberglass resin, cleaning fiberglass tools and dissolving two-part epoxies and super glue before hardening. A heavy-duty degreaser, it is great for prepping metal before painting. Also thins polyester resins, vinyl and adhesives. Easily removes residues from glass and porcelain. Quart.
(1) 100% Pure Acetone, Quart
More Information
Brand
Klean Strip
Manufacturer Part Number
QAC18
Weight
1.900000
Tech Spec

Not for thinning oil-based paints or coatings
Will attack plastics, synthetic fabrics etc
Mix with water to dilute strength and slow evaporation
Non-photochemically reactive
Colorless, with a mild, pungent odor

Size
Quart