Store Location
Rockler Woodworking and Hardware
515 E Altamonte Drive -Suite 1018
Altamonte Springs, FL 32701
Phone: (407) 775-2355
Manager: Patrick Jones - email
Store Hours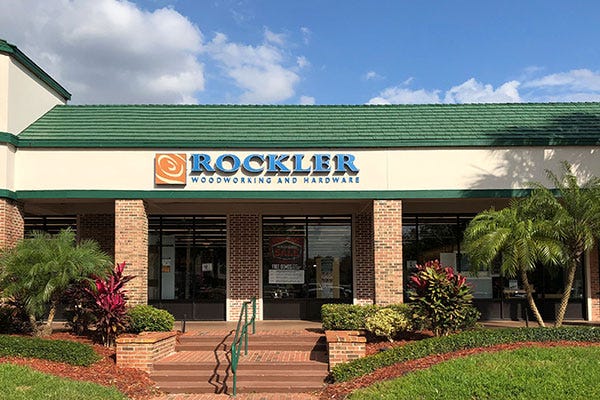 *Be assured that Rockler does not sell its e-mail lists to anyone, so your information is safe with us.


Hear From Altamonte Spring Customers
Summer Demo DAZE at Rockler in Altamonte Springs
Saturday, July 20th at 10AM
Do you feel like you are in a DAZE? Is the heat getting to you? First of all remember to stay hydrated by drinking lots of water. The second best thing you can do is join us on Saturday July 20th for our Summer Demo Daze. We will have the AC on and loads of things to do and see in the store. We have a great list of demos scheduled and we will have plenty of liquids and snacks to sustain you. In addition to our Garage sale specials we have a special Makita Track Saw offer just for that weekend July 19th, 20th and 21st!
Join us throughout the day for the following demos!
10AM – 3PM: Turning Demonstrations with Ron Browning
10AM – 4PM: Track Saws: Take a Lap with your favorite Saw
11AM - 12PM: Cabinet Hardware Jigs with Pat Jones
11:30AM – 12:30PM: Carve Wright with Pete Wesenberg
12:30PM – 1:30PM: CNC Next Wave Automation with Bob Gigilio
1:30PM – 2:30PM: Laser Engraving with Pete Wesenberg
2:00PM – 3:00PM: Building Shutters with Steve Warrick
Please contact the store at 407-775-2355 for more details.
Looking for Wood?
Why not come and "Take a walk through our woods". We feature premium domestic and exotic lumber as well as hard-to-find veneers.
Career Opportunities
Would you like to turn your hobby into a career? Please see our Career Center for position details and how you can join our fun loving team!