Store Location
Rockler Woodworking and Hardware
11977 St Charles Rock Road - Suite 110A
Bridgeton, MO 63044
Phone: (314) 209-1116
Manager: Brian Romine - email

Store Hours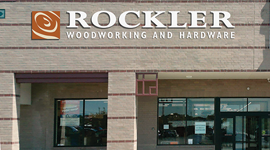 *Be assured that Rockler does not sell its e-mail lists to anyone, so your information is safe with us.


Club & Guild
Guilds and recognized clubs will receive a 10% discount on all purchases (except power tools and items already on sale).
Looking for Wood?
Why not come and "Take a walk through our woods".
We feature premium domestic and exotic lumber as well as hard-to-find veneers.
Career Opportunities
Would you like to turn your hobby into a career? Please see our Career Center for position details and how you can join our fun loving team!