Rikon 50-120 6'' x 48'' Belt Sander/10'' Disc Sander
Belt sander pivots from horizontal to vertical depending on your needs—use the idler wheel for inside contours!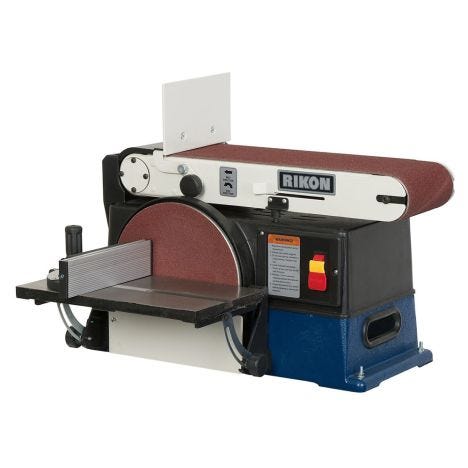 Stand sold separately (#51015).

Whether you're sanding contours to the line or just smoothing edges, the Rikon 50-120 combination Belt/Disc Sander provides the performance you need. The belt sander tilts to any angle from 0° to 90°, allowing you to apply downward pressure for face sanding or sideways pressure for edge sanding. When the belt sander is oriented vertically, the detachable support table provides a solid 90° reference surface for your workpiece. The disc sander is ideal when you need to use the miter gauge for angles or miters, and it also accepts the Rockler Disc Sander Angle Jig (#54963, sold separately) if you want to sand circles or more precise miters.
Features:
Belt sander tilts from vertical to horizontal and anywhere in between
Support table attaches to belt sander for use when edge sanding
Table for disc sander tilts 45° for beveled edges
Belt tension release handle allows easy abrasive changes
Sturdy cast iron and steel construction
(1) Rikon 50-120 6'' x 48'' Belt Sander/10'' Disc Sander
(1) Work Support Table
(1) Miter Gauge
(1) 80-Grit Disc
(1) 60-Grit Belt
More Information
Brand
Rikon
Manufacturer Part Number
50-120
Weight
101.850000
Tech Spec

Horsepower: 3/4 HP
Amps: 10
Volts: 110V, 60 Hz
Table Size: 4'' x 8''
Table Tilt: 0° to 45°
Miter Slot: 3/8'' x 3/4''
Belt size: 6'' x 48''
Belt Speed: 2030 SFPM
Belt Tilt: 0° to 90°
Disc Diameter: 10'' PSA
Disc RPM: 1720 RPM
Overall Dimensions: 28-1/4''W x 17-1/4''D x 16''H
Footprint: 10-1/4'' x 22'