Rikon 82-100 8'' Wet Sharpener
Slow rotation and a continuous water bath ensure that your tool stays cool for an extraordinarily sharp and durable edge.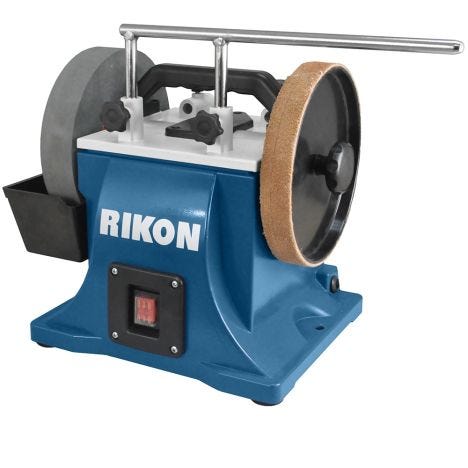 Thanks to its slow-turning abrasive wheel and water basin, the Rikon 82-100 8'' Wet Sharpener puts a keen edge on a wide variety of cutting tools, without the overheating that can ruin your edge. After grinding, you can reverse the motor and the leather wheel strops away any burrs, and then hones the edge to its final sharpness. Ideal for chisels, plane blades, turning and carving tools, knives, axes and more. A tool holding jig and angle guide are included to make putting the right cutting angle on your tools easy and consistent, every time.
Features:
Slow rotation speed of 115 RPM prevents overheating the edge
8'' vitrified aluminum oxide grinding wheel for efficient removal of tool steel
Deep water trough continuously bathes the grinding wheel during use
Leather wheel removes burrs and brings the edge to final sharpness
Reversible motor lets you strop without having to rotate the machine
Support arm allows user to mount a variety of jigs
Powered by a 1/4 HP (1.6A) motor
Accepts many aftermarket jigs
(1) Rikon 82-100 8'' Wet Sharpener
(1) Universal ''F'' Support Tool Rest
(1) Blade/Tool Holder Jig
(1) Angle Guide
(1) 8'' x 1-9/16'' 220-Grit Wet Grinding Wheel
(1) 8'' x 1-1/8'' Leather Strop Wheel
(1) Tube of Honing Compound
More Information
Brand
Rikon
Manufacturer Part Number
82-100
Weight
26.250000
Tech Spec

Motor Horsepower: 1/4 HP
Amps: 1.6
Volts: 120V, 60 Hz
Speed (No Load): 1,750 RPM
Stone & Strop Speeds: 115 RPM
Stone Wheel Diameter: 8''
Stone Wheel Width: 1-9/16''
Arbor: 12mm
Grit: 220
Leather Strop Wheel Diameter: 8''
Leather Strop Wheel Width: 1-1/8''
Tool Rest ''F'' Support Rod Diameter: 12mm (0.472'')
Arbor: 12mm
Overall Length: 17''
Overall Width: 10''
Overall Height: 12''
Footprint: 11-1/2'' x 10''
Net Weight: 23 lbs.