Roarockit Thin Air Press Vacuum Bag Kit, 26'' x 28''
Applies even clamping pressure for curved veneers and bent laminations—kit includes everything you need to get started!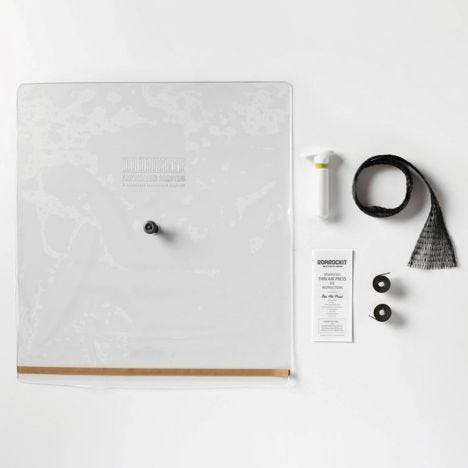 Roarockit Thin Air Press vacuum bags distribute even clamping pressure on all sides of your project, ensuring an excellent bond on curved veneers and bent laminations. Just slide your veneer project into the TAP bag, seal the open end, then remove the air with the manual pump. Once the air is evacuated, Roarockit's ingenious one-way valve and air-tight seal maintain the pressure until the glue dries, eliminating the need for an electric pump to cycle on and off. Perfect for almost any wood laminating, veneering, and marquetry project.
Features:
An inexpensive introduction to vacuum laminating—includes everything you need to get started
Applies even clamping pressure—no pressure points from clamps
Ideal for table tops, clocks, boxes, game pieces, marquetry, picture frames, golf discs and more
Reuse again and again—other size vacuum bags available to suit your project
Hand pump included; no power required
PVA and epoxy glues will not stick to the bag
Not suitable for heat or steam bending; room temperature should be at least 65° so the vinyl remains flexible
Note: Be sure to check out the Rockler Vacuum Bag Port Adapter (#50665, sold separately), which lets you attach an electric pump for even faster, easier vacuum press veneering.
(1) Roarockit 26'' x 28'' Thin Air Press Vacuum Bag with one-way valve positioned in the center and seal attached
(1) Vacuum hand pump (low-volume high-pressure)
(1) Roll of breather netting
(2) Small rolls of extra sealing tape
(1) Set of illustrated instructions and maintenance sheet
More Information
Manufacturer Part Number
TP26K
Weight
2.200000
Tech Spec

Brand: Roarockit
Vacuum Bag Dimensions: 26'' x 28''