Rockler 4-Piece Digital Measuring Kit
Unfailing precision and digital convenience for every aspect of your woodworking—great for measuring stock and setting up machines.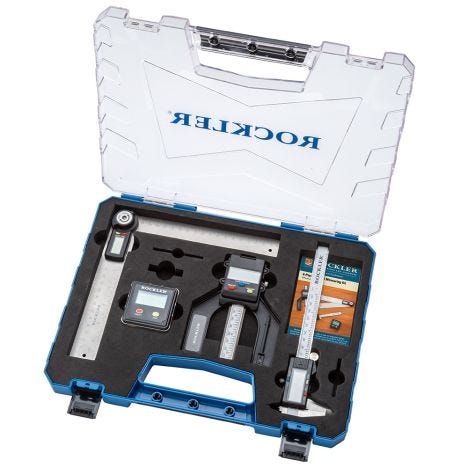 Shipping Restrictions: Ground Transportation Only.

Measure twice cut once, that's the woodworking mantra. Our 4-Piece Digital Measuring Kit lets you do just that, in four different ways, with four precision tools. Use the caliper to measure thickness, width, hole depth and step height. Use the Angle Ruler to measure and transfer angles to your saw. Attach the magnetic Level Box to your saw blade for precise angle adjustments, and set the magnetic Height Gauge on your saw table or router table to adjust the blade or bit height. You get incredible resolution and repeatability, plus the ability to switch between metric and imperial, and between decimals and fractions.
Features:
Digital convenience and accuracy for every aspect of your woodworking
Lightweight, compact tools fit easily in a drawer
Zero out at any setting with the push of a button
Integral magnets in the Level Box and Height Gauge allow better accuracy and ease of use
Includes batteries for each item
Rockler 4-Piece Digital Measuring Kit
(1) Digital Level Box
(1) Digital Height Gauge
(1) Digital Caliper
(1) Digital Angle Ruler/Protractor
(1) Fitted storage case
(1) Battery (or set of batteries) for each measuring tool
More Information
Brand
Rockler
Weight
2.950000
Tech Spec

Digital Level Box:

Accuracy: 0.2 degrees
Resolution: 0.1 degree
Measuring Range: 0° to 90°
Weight: 70g
Battery: AAA (included)

Digital Height Gauge:

Measuring Range: 0mm to 80mm (0'' to 3-1/8'')
Depth Range: 0mm to 50.8mm (0'' to 2'')
Resolution: 0.05mm (0.002'')
Accuracy: 0.1mm (0.004'')
Repeatability: 0.1mm (0.004'')
Battery: CR2032 3V Lithium (included)

Digital Caliper:

Material: Stainless steel and plastic
Accuracy: 0.03mm (0.0005'')
Resolution: 0.01mm (0.005'')
Measuring Range: 150mm (6'')
Battery: 1 x LR44 (included)

Digital Angle Ruler:

Measuring Range: 0° to 999.9° (need to calibrate before every use)
Resolution: 0.1°
Accuracy: ±0.3° (total difference between two measurements may be as much as 0.6°)
Folded Length: 220mm (8-1/2'')
Expanded Length: 400mm (15-3/4'')
Ruler Measurement Range: 0 to 400mm (0 to 7'')
Battery: CR2032 3V lithium battery