Rockler Cast Iron Router Table with ProMax Fence, Rock-Steady Stand, Dust Bucket Kit and Pro Lift
Enjoy the flatness of cast iron, quick lifting, button-release insert rings, a microadjustable fence and our Rock-Steady stand with a Dust Bucket below deck.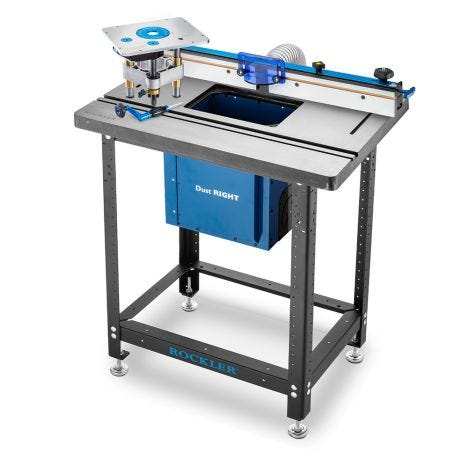 Additional Shipping and Handling Charge: $20
This package outfits our premium cast iron top with the Pro Lift, which features Quick-Gear lifting action and Snap-Lock button-release insert rings, the ProMax Fence with microadjustability, jointer bars and top-mounted knobs for comfortable adjustments, and our Rock-Steady steel stand with a Dust Bucket for collecting shavings both above and below the table. Nothing beats cast iron when it comes to a sag-free, dead flat surface and reliable performance year in and year out. A one-piece top weighing in at over 50 pounds and measuring a full 32'' wide, it provides vibration-dampening heft for the smoothest possible cuts. Spin the largest bits your plate and router can accept—the table won't bat an eye. Premium features include a 10-point plate leveling system and pre-tapped holes to accept our optional Dado Dust Chute and included Steel Stand. The 3/4'' T-profile miter slot accepts precision aftermarket miter gauges, while accessory T-tracks in both the fence and table accept stops, hold-downs, featherboards and more. A bit guard and dust port are both included.
Features:
Strong, durable 1-1/2'' thick solid cast iron table is machined flat and weighs over 50 pounds to reduce vibration for smooth routing results
32'' x 24'' tabletop provides more than five square feet of work surface and is designed to stand up to heavy use
Dual Track with accessory T-track and ''T'' miter slot is machined directly into the table's surface
10-point plate-leveling and locking system maintains a perfectly flush surface and prevents plate from shifting during cut
Underside of tabletop features tapped holes (and included screws) for mounting Dado Dust Chute (#57495, sold separately)
Microadjustable ProMax Fence features extruded aluminum backer and integral jointing system
Top-mounted fence knobs provide easier access to adjustments from the front of the table
Melamine-coated sub-fences adjust without tools to provide maximum support on either side of the bit
Jointer bars slide into slots in the fence to shave off material in precise increments
Includes heavy-duty bit guard and dust port on the back of the fence
Universal T-tracks accept 1/4'' and 5/16'' T-bolts as well as 1/4'' hex bolts - perfect for hold-downs, stops and other accessories such as featherboards
Dust Bucket includes splitter that captures routing debris from both above and below the table
Top is pre-drilled for the included Rockler Rock-Steady Router Table Steel Stand
Heavy-duty steel stand with powder-coat finish: 14-gauge for stretchers, 10-gauge for legs
Holes in legs are spaced 32mm apart for attaching optional hinge brackets, drawer slide/shelf brackets and panels
Includes the award-winning Rockler Pro Lift with Quick-Gear rapid height adjustment and tool-free Snap-Lock insert rings!
Two patent-pending features raise the Rockler Pro Lift into a class of its own: ultra-fast ''Quick-Gear'' height adjustments and ''Snap-Lock'' tool-free insert ring changes. Push the button to release the insert ring, then wind the Quick-Gear to raise the bit above the table in just seconds. Once the bit is installed, quickly lower it, click in the insert ring, and use the fine adjustment gear to set the final height to within 0.001''. Anti-backlash mechanism keeps the router from creeping downward—lock knob provides further insurance when running very large jobs. Heavy-duty steel construction with bronze bushings and a 3/8'' thick machined aluminum plate.
Will my router fit?
The Pro Lift accepts router motors with a 4.2'' diameter (13.85'' circumference). Examples include the Porter-Cable 7518 and 7519.
Lift Adaptors available for smaller router motors!
Optional adapters are available that allow the Pro Lift to accept routers with smaller motors. If you are unsure of your router motor's diameter, check the manual, or measure the circumference with a tailor's tape. The collars have an expansion gap, so they will accept motors measuring 1/8'' larger or smaller in diameter than the listed spec.
3-1/4'' Pro Lift Adapter Collar (#50098, sold separately) accepts motor with 3-1/4'' diameter or 10.21'' circumference
3-1/2'' Pro Lift Adapter Collar (#57022, sold separately) accepts motor with 3-1/2'' diameter or 11'' circumference
Rockler ProMax Cast Iron Router Table with ProMax Fence, Basic Stand, Dust Bucket Kit and Pro Lift
(1) Rockler ProMax Cast Iron Router Table
(1) Rockler ProMax Router Table Fence
(1) 2-1/2'' diameter custom dust port (pre-installed)
(1) T-handle hex wrench for adjusting sub-fences
(2) Jointer bars
(1) Heavy-duty bit guard
(1) Dust port
(1) Rockler Rock-Steady Router Table Stand with leveling feet and hardware
(1) Router Table Dust Bucket with Dual Port
(1) Dust hose, 36'' long x 2-1/2'' diameter
(2) 2-1/2'' Stainless Steel Hose Clamps
(1) Rockler Pro Lift Router Lift
(1) Aluminum router plate (3/8'' thick)
(1) Insert ring (1-1/2'' I.D.)
(1) Set of hex keys on key chain
More Information
Weight
169.570000
Tech Spec

Brand: Rockler
Manufacturer Part Number: 65117, 63481, 53798, 56248, 54030, 52429, 34203

Cast Iron Top, ProMax Fence and Stand:

Top Dimensions: 24'' x 32'' x 1-1/2''
Top Material: Solid cast iron
Compatible Plate Dimensions: 8-1/4'' x 11-3/4''
Stand Dimensions: 26'' wide x 18'' deep x 32'' high
Stand Material: 14-gauge steel for stretchers, 10-gauge steel for legs
Stand Finish: Durable black powder-coat
Stand Leg Hole Spacing: 32mm
Stand Stretcher Mounting Location: Flush with top or about 5-1/8'' down
Fence Material: Aluminum and MDF
Fence Length: 32''
Effective Fence Height: 3''
Dust Port I.D.: 2-1/4''
Dust Port O.D.: 2-1/2''
Plate Leveling: Yes; 10-point leveling
T-Track Compatibility: 5/16'' T-bolts, 1/4'' T-bolts, and 1/4'' Hex bolts

Pro Lift:

Compatible Motor Diameter: 4.2'' (13.19'' circumference); e.g. Porter-Cable 7518
Plate Dimensions: 3/8'' thick (width varies; see product titles)
Insert Ring Inside Diameter: 1-1/2''
Vertical Travel: ~5-1/2'' (varies w/ installation)
Quick-Gear Adjustment Rate: 1 revolution = 1/2''
Precision Gear Adjustment Rate: 1 revolution = 1/8''

Dust Bucket:

Material: Steel
Finish: Blue powder-coat
Bucket Width: 13''
Bucket Depth: 10''
Bucket Height: 13''
Mounting Tab Width: 1-1/2''
WARNING:

Cancer and Reproductive Harm. For more information go to www.P65Warnings.ca.gov/product
WARNING:

Drilling, sawing, sanding or machining wood products can expose you to wood dust, a substance known to the State of California to cause cancer. Avoid inhaling wood dust or use a dust mask or other safeguards for personal protection. For more information go to www.P65Warnings.ca.gov/wood