Rockler Four-Piece Cheese Knife Turning Kit
Serve up your cheese platters in style with this array of four specialty cheese knives, each showcasing a custom handle turned from the material of your choice.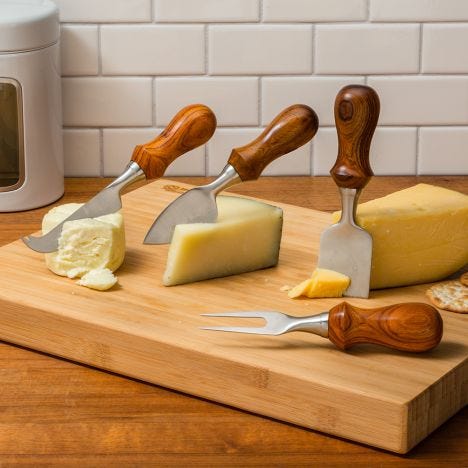 As we all know, one must use the right tool for the job. No sense hacking away at a block of hard cheese with a flimsy knife. Accordingly, the parmesan knife in this set is short, sharp and sturdy to cut through hard cheeses with ease. Use the universal cheese knife to slice through softer cheeses and to spear the wedges onto your plate with the forked tip. The cheddar knife is shaped like a square spatula with a finely honed edge so you can lay the slices onto your crackers after slicing. Finally, the cheese fork is great for serving up cubes or slices after the knives have done their job. Hardware is made from 304 stainless steel and attached to the handles (sold separately) with included 1/4-20 threaded inserts. All hardware is dishwasher safe; the handles are easily removed for this purpose.
NOTE: For easiest turning and assembly, use our Turning Mandrel (#51530, sold separately). The 3/4'' shoulder will ensure perfect alignment of the handle to the hardware.
(1) Parmesan Knife
(1) Universal Cheese Knife
(1) Cheddar Knife
(1) Cheese Fork
(4) Threaded Inserts
More Information
Brand
Rockler
Weight
0.750000
Tech Spec

Material: Food-Grade 304 Stainless Steel
Finish: Brushed
Recommended Blank Size: 1-1/2'' x 1-1/2'' x 6'' (finished length can vary according to needs, but should be no longer than 3-1/2'' if product packaging will be used for gift wrapping/presentation)
Length of Scoop Only (without threaded stud): 3-5/8''
Stud/Insert Threading: 1/4-20