Rockler Modern Adirondack Chair Plan with Templates
Marries the comfort of a traditional Adirondack chair with a modern, squared-off silhouette—choose from two template options: cardboard or 1/4'' MDF.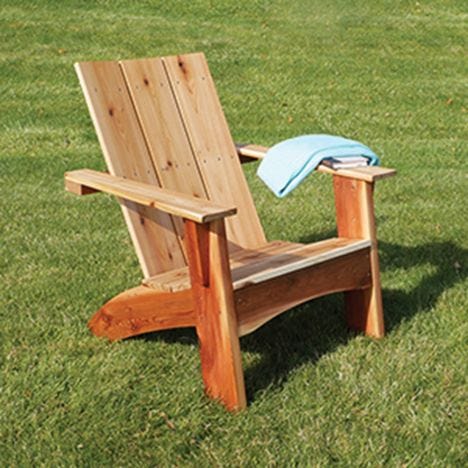 Pre-cut full-size templates make building our Modern Adirondack Chair as easy as trace, cut and assemble. Choose from rigid MDF templates for repeated use with guide bushings, or the more affordable cardboard templates, which work well if you're only making one project. And after the build is done, you'll be rewarded with a comfortable, welcoming seat with wide armrests to perch your drink on. The chair's comfortable, contoured seat and back conforms to your body, while its clean, squared off silhouette adds a modern appeal. The plan includes drawings, a cutting list, and step-by-step instructions with photos to walk you through the entire construction process.
Features:
Includes full-sized templates for cutting out the more difficult parts
Choose the MDF template option for repeated template routing with a guide bushing
For bandsawing to the line, or to make your own hardboard templates, choose the cardboard template option
Note: Be sure to add our optional stainless steel hardware pack (#65175, sold separately) for the easiest possible build. Includes all necessary screws and fasteners to build one Modern Adirondack chair.
Note: Missing in instructions are the size to cut the front legs. The angle is 10 degrees, however the legs are forgiving enough that it could be cut 5-15 degrees with no effect on how the chair sits.
Modern Adirondack Chair Templates with Plan
(1) Modern Adirondack Chair Templates with Plan
(1) Set of Instructions
Stainless Steel Hardware Pack for Modern Adirondack Chair
(46) 1-5/8'' Stainless Steel Screws
(26) 2-1/2'' Stainless Steel Screws
More Information
Brand
Rockler
Tech Spec
Modern Adirondack Chair Templates with Plan


Finished Dimensions: 35-1/2''W x 37''H x 34-1/2''D

Stainless Steel Hardware Pack for Modern Adirondack Chair


Material: Stainless steel
Compatible Plan: Modern Adirondack Chair (#61139, sold separately)