Rockler Pack Rack Plus, Clamp and Tool Storage System
Wheel your clamps, tools and supplies across the shop with ease—keeps it all within arm's reach, at all times.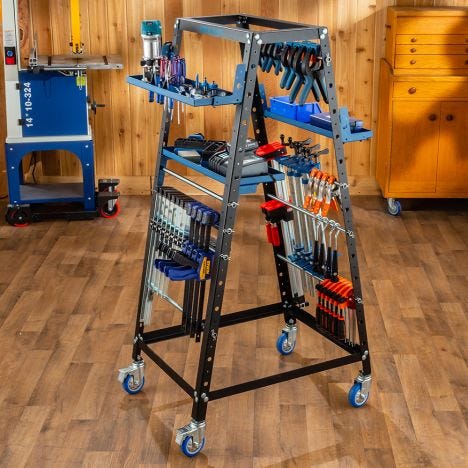 As low as $169.99 Regular Price $219.99
Important Note: The Pack Rack Plus accessories DO NOT fit the old Pack Rack (21834). The older Pack Rack does not have pre-drilled holes on the uprights.
Rolling clamps around your shop is just the tip of the iceberg when it comes to uses for the Rockler® Pack Rack® Plus. With vast amounts of interior space and a few simple add-ons, it also accommodates a huge variety of tools and supplies. Best of all, it smoothly rolls wherever you need it most, keeping everything you need close at hand and neatly organized. Use the Shelf Hooks (#20873, sold separately) to make your own wooden shelves, or buy any of our optional Trays for neat organization of small items like hand tools, glue, hardware, router bits and drill bits. Store your compressor and other bulky items on the Steel Bottom Shelf (#58463, sold separately). You can even suspend your Wall-Mount Dust Collector on the inside with our Dust Collector Bracket (#57354, sold separately).
Features:
Mobility meets storage capacity for maximum functionality—line up your clamps in neat rows for easy access during complicated assemblies
Optional accessories let you store tools, supplies, router bits, drill bits, compressors—even our Wall-Mount Dust Collector
Everything at your fingertips, at all times, on four smooth-rolling swivel casters for easy maneuverability
A-frame design provides added height for less stooping without sacrificing stability
4'' diameter polyurethane casters roll smoothly over cracks
Heavy-gauge steel construction with a durable powder-coat finish
Included steel clamp rods can be installed at 13 heights to accept a variety of clamp lengths
Clamp rods support a full row of clamps and a tool shelf using the optional Shelf Hooks (#20873)
Pre-drilled holes accept a wide range of optional accessories (see below)
Check out our complete selection of available accessories to expand your storage potential!
Important Note: The accessories marked with a * below DO NOT fit the older, discontinued Pack Rack (21834 ). The older Pack Rack does not have pre-drilled holes on the uprights.
5'' Tray and 8'' Tray (#54515 and #50028)

*

store tools and supplies on the sloped sides of the Pack Rack® Plus
Tool Tray (#53897)

*

has slots for common hand tools, router bits and Forstner bits
Steel Pegboard Side Panels (#57673)

*

provide neat, organized hanging space
Perforated Steel Bottom (#58463)

*

provides a large, sturdy shelf on the bottom for a compressor or bulky power tools
Wall-Mount Dust Collector Bracket (#57354)

*

uses the interior space for your dust collector, plus adds hanging space for tools
Top Cap (#65042)

*

adds eye-level access to your gear—perforated bottom drains the dust
Shelf-Hooks (#20873) support a shop-made shelf for catch-all storage of tools and supplies
Rockler Pack Rack Plus Clamp and Tool Storage System
(1) Heavy-duty steel A-frame body (ready-to-assemble)
(8) 5/8'' diameter steel clamp rods (zinc-coated) with retaining pins
(4) Swivel casters (2 locking, 2 non-locking)
(1) Pack of all necessary hardware for assembly
Additional Options
5" Tray (#54515)
(1) Standard 5'' Tray
(2) Mounting brackets
(8) 1/4''-20 x 5/8'' machine screws
(8) 1/4''-20 nylon locknuts
8" Tray (#50028)
(1) Large 8'' Tray
(2) Mounting brackets
(8) 1/4''-20 x 5/8'' machine screws
(8) 1/4''-20 nylon locknuts
Tool Tray (#53897)
(1) Slotted Tool Tray
(2) Mounting brackets
(8) 1/4''-20 x 5/8'' machine screws
(8) 1/4''-20 nylon locknuts
Steel Pegboard Side Panel Set (#57673)
(3) Steel Pegboard Panels (top, middle, bottom)
(12) 1/4''-20 Screws
(12) 1/4''-20 Nylon Locknuts
Perforated Steel Bottom Shelf (#58463)
(1) Perforated Steel Bottom Shelf
Wall-Mount Dust Collector Bracket (#57354)
(1) Steel Dust Collector Mounting Bracket
(1) Steel hook handle with rubber-coated end
(1) Steel hose handle with rubber-coated end
(14) 1/4''-20 screws
(14) 1/4''-20 nylon locknuts
(1) Peel-and-stick foam tape strip
Top Cap (#65042)
(1) Steel Top Cap with perforated bottom
(4) 5/16''-18 x 1'' Carriage Bolts
(4) 5/16''-18 Nuts
More Information
Brand
Rockler
Tech Spec

Rockler Pack Rack Plus Clamp and Tool Storage System (#53871)

Material: Steel
Overall Dimensions: 31''L x 24''W x 58''H
Clamp Rod Material: Zinc-plated steel
Clamp Rod Diameter: 5/8''
Caster Diameter: 4''

5" Tray (#54515)

Material: Powder-coated steel
Tray Dimensions: 22-3/4'' wide x 5-7/16'' deep x 1'' high

8" Tray (#50028)

Material: Steel with a powder-coat finish
Tray Dimensions: 22-3/4'' wide x 8-3/4'' deep x 1'' high

Tool Tray (#53897)

Material: Steel with a powder-coat finish
Tray Dimensions: 22-3/4'' wide x 6-3/4'' deep x 1'' high

Pegboard Side Panel (#57673)

Material: Steel
Hole Spacing: 1'' on center

Perforated Steel Bottom Shelf (#58463)

Overall Dimensions: 23'' x 29''
Steel Gauge: 5 ga.

Wall-Mount Dust Collector Bracket (#57354)

Top Cap (#65042)

Material: Steel
Finish: Back powder-coat
Interior Dimensions: 7-5/8'' x 23-1/4''