Rockler Perfect Fit Dado Jig
Ensures a precision fit by using a scrap of your actual material to set the dado width—no measuring required.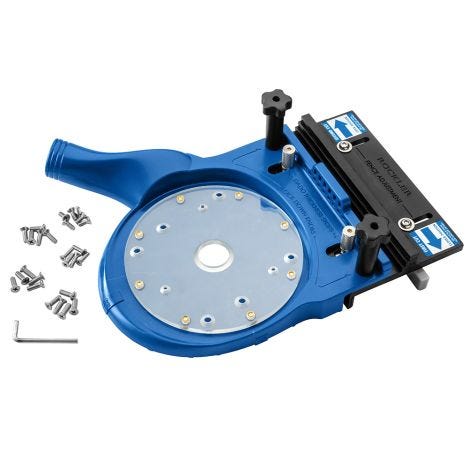 With just two passes along a straight edge guide, the Perfect Fit Dado Jig lets you rout precise dados and grooves at any increment from 1/4'' to 1'' wide. Since it uses a scrap of your actual material for setup, the fit is spot-on, every time. Just rout the first shoulder with the jig in the ''closed'' position, then rout the second shoulder with the jig in the ''open'' position. The result is a tailor-cut dado that fits like no other. Once the jig is set, the stops make it easy to return to the ''open'' position so you can machine as many dados as you like for that thickness. No need to buy undersized plywood bits, or bits for other odd thicknesses—your dados can fit any thickness within the range (19/64'' for example) using standard 1/4'', 3/8'' or 1/2'' straight bits. Not only do you get easy operation and a perfect fit, you also get an integral dust port that lets you hoover up the mess before it ever hits the floor.
Features:
Perfect for plywood that's thinner than the nominal thickness, and for lumber that's been planed to a non-standard thickness
Uses a scrap of your actual material to set cutting widths for a precision fit
Built-in dust port provides point source dust collection
Knurled knobs act as stops, making it easy to return to the ''open'' position for cutting multiple dados of the same width
Cuts dadoes from 1/4'' to 1'' wide
Made from durable, smooth-sliding glass-reinforced plastic
Works with 1/4'', 3/8'' or 1/2'' diameter straight router bits (not for use with undersize bits)
Includes removable baseplate with pre-drilled hole patterns to fit popular routers (see list at bottom)
Fits most clamping straight edge guides, resulting in ultra-straight dados and grooves (see notes below)
To buy the jig together with a 50'' or 100'' guide, see our package deals #61509 and #63350 (sold separately)
Important Compatibility Notes:
Not for use with undersized plywood router bits
Not for use with a plunge router
Not compatible with Rockler 52'' to 104'' Low Profile Straight Edge Clamp System (#36495)
Out of the box, the jig fits straight edge clamp guides from 2-1/4'' to 3-1/2'' wide, provided they have sufficient vertical bearing surfaces. For narrower clamp guides, the pre-drilled holes let you mount a spacer block
Pre-Drilled for the Following Mid-Size Routers:
Bosch 1617
Dewalt DW616
Dewalt DW618 series
Hitachi M12VC (not M12V)
Makita 1100 series
Porter-Cable 100
Porter-Cable 690
Porter-Cable 890 series
Note: If you plan to use this product with a Skil router, please download and use the Drilling Template in the Technical Documents section.
Rockler Perfect Fit Dado Jig
(1) Jig base
(1) Router plate
(1) Pack of mounting hardware
(1) Pack of knobs and T-bolts
(1) Set of instructions
More Information
Brand
Rockler
Weight
3.100000
Tech Spec

Dado Width Range: 1/4'' to 1''
Compatible Router Bits: 1/4'', 3/8'' and 1/2'' (NOT for use with undersized plywood bits)
Compatible Width Range for Straightedge Guide: 2-1/4'' to 3-1/2'' (guide must have sufficient vertical flat faces for the jig to run against)