Rockler Perfect Miter Cut-and-Clamp Kit
Cut and clamp mitered frames with anywhere from 4 to 12 sides—setup blocks and frame clamp make tight-fitting results a cinch!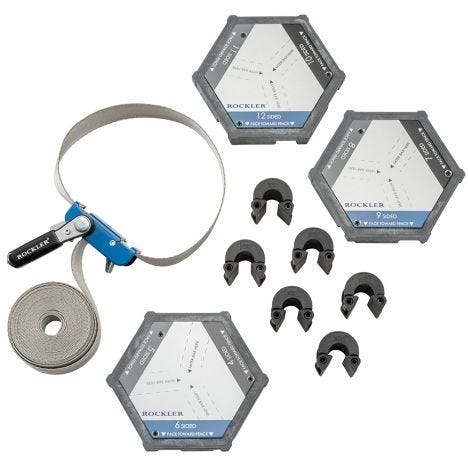 Picture framers and segmented turners will love our Perfect Miter Setup Blocks. The blocks make it a snap to dial in the exact miter gauge settings for frames with anywhere from 4 to 12 sides. Each block has three miter slots, each for a specific polygon: a hexagon, heptagon, octagon, and so forth. Just fit the setup block over your miter bar, snug the block up to the fence, and tighten the knob to lock in your setting. Now you can make your cuts with the utmost confidence that all the miters will line up perfectly. No need for math, reference charts, test cuts, or trying to compensate for inaccuracies in your miter gauge scale. The blocks don't rely on scale—they are dead set on accuracy.
Features:
Quick, accurate miter gauge setup for mitering 4- to 12-sided segmented frames on the table saw—no math needed
Fits any miter gauge with a standard 3/4'' wide miter bar
Easy to use: select the face with the number of sides you want, fit block onto the miter bar and snug the block up to the fence
Includes three setup blocks: one for 4-, 5- and 6-sided frames; one for 7-, 8- and 9-sided frames; and one for 10-, 11- and 12-sided frames
Each setup block is marked clearly for easy setup
Made from reinforced plastic
Package includes our Ratcheting Band Clamp and a 6-pack of Bessey Variable Angle Corners for quick, precise assembly!
Our ratcheting band clamp features a longer, more durable band and a ratcheting handle that makes it easy to apply just the right amount of pressure. It's perfect for any clamping situation where you need to prevent joining surfaces from sliding against each other: chair frames, mitered frames, coopered barrels, segmented turning blanks and more. Plus, the Bessey clamping corners have swiveling pads that automatically adjust to angles from 60° to 180°, keep glue off the strap, and keep the corners in place.
Note: NOT for use as a tie-down or for securing loads.
Rockler Perfect Miter Cut-and-Clamp Kit
(1) Perfect Miter Setup Block (4-, 5- and 6-sided frames)
(1) Perfect Miter Setup Block (7-, 8- and 9-sided frames)
(1) Perfect Miter Setup Block (10-, 11- and 12-sided frames)
(1) Rockler 1'' x 15' Band Clamp
(6) Extra Strap Clips for the Bessey Variable Angle Strap Clamp
More Information
Brand
Rockler
Weight
3.400000
Tech Spec

Setup Blocks:

Material: Reinforced plastic
Compatible Miter Bar: 3/4''

Strap Clamp:

Brand: Rockler
Manufacturer Part Number: 58432
Strap Width: 1''
Strap Length: 15'
Strap Material: Nylon

Corner Blocks:

Brand: Bessey
Material: Polymer
Angle Range: 60° to 180°