Rockler Glue Applicator Set
All your gluing needs in one versatile, easy-to-clean kit!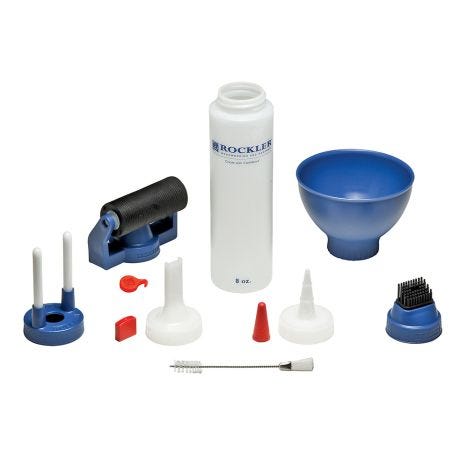 Current Price:
$
17
.
99
ea
Original Price:
$24.99
ea
With four glue applicators included—a Standard Glue Spout, a silicone brush for wider boards, a roller for very wide boards, and a mortise tip for traditional mortises, domino mortises and biscuit slots—this kit lets you deposit glue precisely where you want it, with minimal squeeze-out. The centering attachment fits onto the Standard Spout to keep your glue bead locked on center when edge gluing, while the funnel makes transferring glue from jug to bottle a mess-free experience. Attachments also fit onto Titebond 16 and 32 oz glue bottles. All attachments are made from easy to clean materials: HDPE plastic, polypropylene, silicone and thermoplastic rubber.
Glue Line Centering Attachment
When gluing up panels, simply rotate the bottle to center the glue tip on the edge of the lumber—no more wavy lines
Attachment friction fits onto the Standard Glue Spout
Maximum lumber thickness: 1-1/8''
Delrin guide bars
Silicone Glue Brush Applicator
Our famous easy-to-clean, reusable glue brush without the need to dip—just squeeze the bottle gently to load the brush
Silicone bristles are easy to wash with water, and quickly shed dried glue for long-lasting service
Dried glue peels off easily to restore the brush to pristine condition
Unlike traditional brushes, the silicone brush won't shed bristles into your bead of glue
Threads compatible with Titebond 16 and 32 oz bottles
Glue Roller Applicator
Glue Roller body and axle are made of polypropylene plastic, and roller is made of thermoplastic rubber—all easy-to-clean
Large, elongated tip hole for good flow
Ergonomically designed with angled head
Tip is easily visible so you can gauge your glue flow visually
Thread is compatible with Titebond 16 and 32 oz bottles
Mortise Glue Applicator
Flattened design fits into traditional mortises, Domino mortises, biscuit slots and other grooves that traditional spouts can't reach into
Thread is compatible with Titebond 16 and 32 oz bottles
Glue Funnel
Threads onto your glue bottle to make transferring glue from jug to bottle drip-free
Thread is compatible with Titebond 16 and 32 oz bottles
Cleaning Brush
Narrow profile and flexible wire handle make it easy to reach into the tight spaces of the mortise tip and roller
Double-ended with two brush types: stiff bristles and soft bristles
Note: Not for use with CA glue.
(1) 8 oz. Rockler Glue Bottle
(1) Standard Glue Spout with Red Cap
(1) Glue Line Centering Attachment
(1) Silicone Glue Brush Applicator
(1) Glue Roller Applicator
(1) Mortise Glue Applicator
(1) Glue Funnel
(1) Cleaning Brush
More Information
Brand
Rockler
Weight
0.750000
Tech Spec

Bottle Capacity: 8 oz.
Bottle Material: HDPE Plastic
Material of Threaded Spouts: Polypropylene
Glue Roller Material: Thermoplastic Rubber
Bristle Material: Silicone
Not safe for food use