The most convenient way to sand and polish in tight, hard-to-reach spaces.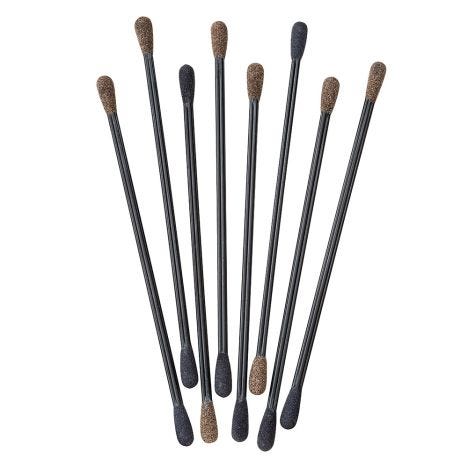 Whether you're cleaning up rough patches on a carving, ferreting out dried glue from a corner, or removing rust, paint or corrosion, Sandits make the perfect, low-cost tool for the job. With their thin, cotton swab-like shape and long plastic stem, they allow you to work in difficult-to-reach spaces inaccessible to ordinary sandpaper.
Since the abrasive is embedded in marine-grade epoxy, Sandits are ideal for marine use or in wet applications. Use on wood, metal, plastics-any place where you need sanding, shaping, smoothing or polishing.
Features:
120-grit on one end; 180-grit on the opposite end (#51507)
400-grit on one end; 800-grit on the opposite end (#58799)
Versatile, portable, non-conductive and waterproof
Low-cost; no need for a power outlet
Great for cleaning electrical contacts
(8) Sandits™ Detail Sanding Sticks
More Information
Weight
0.120000
Tech Spec

1/4"W at tip x 5-7/8"L
Aluminum oxide abrasive

Grit
120, 180, 400, 800
Abrasive Type
Aluminum Oxide