SawStop Contractor Table Saw w/36'' Fence, CNS175-TGP236
Designed to accommodate the unique demands of the avid woodworking hobbyist.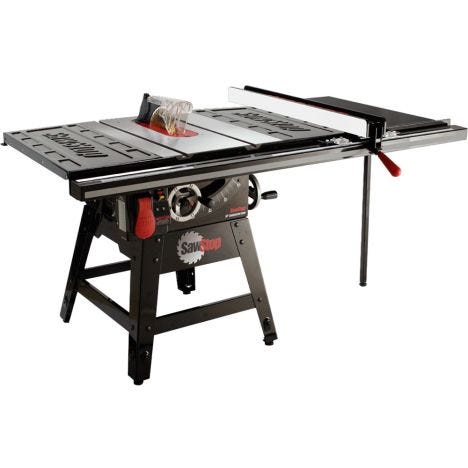 Additional Shipping and Handling Charge: $250
The SawStop® 110V, 1.75HP 10" Professional Contractor Saw is engineered to fit the unique demands of the avid hobbyist in a home setting. Delivering the peerless fit and finish of the Professional Cabinet Saw, this saw's 110V power and optimized footprint make it ideal for the many challenges of a home shop. With SawStop's® legendary safety system, uncompromising quality and industry-leading dust collection, the 110V Professional Contractor Saw is engineered to be the cornerstone of a home shop. Mobile base sold separately (#22948).
(1) SawStop Contractor Table Saw

With the Rockler Protection Plan you'll get accidental damage coverage immediately upon purchase of your tool. Plus we will extend the manufacturer's warranty for your choice of an additional 1 or 2 years. We'll take care of all parts and labor for any repairs with no deductibles and no hassles. If your tool can not be repaired we'll gladly replace it. Available in the US only. Click here to learn more.
Standard Manufacturer's Warranty: 12 months
More Information
Brand
SawStop
Manufacturer Part Number
CNS175-TGP236
Tech Spec

Motor: 1.75 hp, 1 phase, 110 V, 14 A
Weight: 225 lbs (table saw only)
Max. rip, right of blade: 36"
Cabinet footprint: 19 3/8"W x 19 3/8"D
Cast iron table: 20"W x 27"D, 44"W x 27"D (w/ extension wings)
Stamped steel extension wing: 12"W x 27"D
Blade: 40-tooth, professional grade, 5/8" arbor
Blade diameter: 10"
Blade tilt: Left
Blade kerf: 0.118" (3mm)
Blade plate thickness: 0.078" (2mm)
Max. depth of cut, blade at 0°: 3-1/8"
Max. depth of cut, blade at 45°: 2-1/4"
Max. rip, left of blade: 12"
Dado diameter: 8" (requires a separate brake cartridge and table insert)
Dado max. width: 13/16"
Arbor diameter at blade: 5/8"
Main bearing size: 62mm OD x 30mm ID
Second bearing size: 52mm OD x 25mm ID
Table in front of blade (max. elevation): 10-1/4"
Table behind blade (max. elevation): 7-1/2"
Arbor runout: 0.001" Maximum allowable runout
Blade lateral movement over full elevation range: 0.006" Maximum
Table flatness measured diagonally: 0.010" Maximum gap
Overall table and extension wing flatness: 0.025" maximum gap
Blade alignment with miter slot: 0.010" Maximum displacement
Deviation of miter gauge indexing stops from actual: 0.25°
Alignment between spreader and blade: 0.010" Maximum difference
Miter slots: T-shaped, 3/4" at top, 1" at bottom, 3/8" deep
Riving knife / splitter thickness: 0.078" (2mm)
Blade guard: polycarbonate, extends only 5/8" to right of blade
Insert: zero clearance, steel core, ABS surfaces
Hand wheels: 7" diameter, cast iron with chrome handle
Belts: 2 V-ribbed belts - arbor belt is static dissipative
This item will ship directly from the manufacturer.
Must be shipped within the 48 contiguous United States.
Please allow up to 7 business days for your shipment to be prepared.
Additional shipping charges may apply and will be noted below the price.
Items shipped by truck are delivered to the curbside only.
Please call customer service before returning product.