Introducing Shaper Origin - Coming in 2017!
Shaper is a start-up company set to revolutionize the power tool world. Rockler has been honored to work with them for over four years as they developed the world's first hand–held CNC technology for the DIY and woodworking markets. We've had a lot of fun trying out prototypes and dreaming about all the ways a woodworker could use this new tool. That's why we are excited to announce that Shaper Origin is now available for pre-sale. There are a limited number available at the pre-sale price, and as a Rockler customer, you are among the very first to hear about it.
*Note: pre-orders are being handled by Shaper. By clicking the button above, you will leave the Rockler site.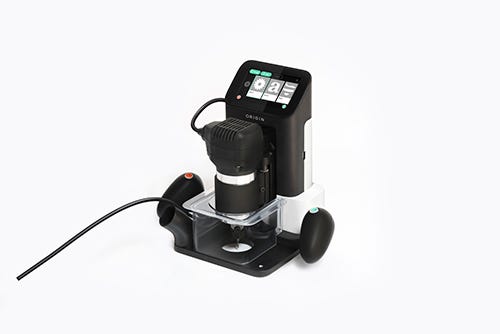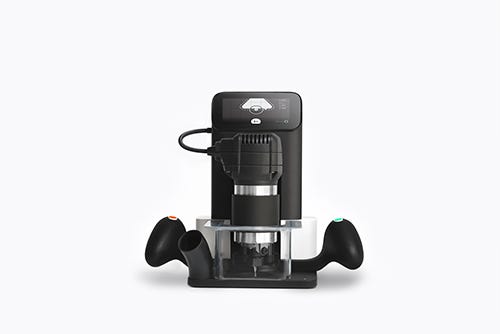 Shaper Origin: Features
Shaper Origin is the world's first and only hand-held CNC that's ready to create whenever and wherever you are! It's packed with features and functionality that gives you the ability to cut, build, and create like never before...
Work at Any Scale, Anywhere Origin is a compact portable tool that thinks it's a big CNC. Do delicate joinery one day and route large plywood shapes the next. Origin can be brought to the material rather than the material to the machine.
On-Tool CAD
No computer required. A wide range of built-in adjustable applications will have you cutting features like box joints with practically no setup required.
Digital Templates
Origin enables you make precision cuts freehand without physical templates. Simply move the router to follow the outline on the screen. Origin's revolutionary locating and auto-correct system is capable of helping you achieve cuts within 1/100th of an inch of your intended path.
Workpiece Memory
Pick up where you left off. Origin automatically recognizes ShaperTape, allowing you to return to a job days or months later without losing the alignment of your digital templates.
Automatic Retract
When you're ready to end your cut, a single button press will rapidly retract the cutting tool. Additionally, the bit will automatically retract if Origin leaves the surface of the work or gets too far off the digital template.
Powered Plunge with Digital Depth Stop
Never fiddle with a depth adjustment again. Enter your exact plunge depth on-screen and Origin's ultra smooth motor-driven leadscrew plunges the router bit to the desired cutting depth with the press of a button.
Diameter Compensation
Origin uses standard 1/4-inch shank router bits and automatically offsets the outline of your digital template to correctly guide the tool regardless of bit diameter.
See it in Action!