Sjobergs Nordic Plus Workbench 1450 with Cabinet and Accessory Package
Four vise locations for incredibly versatile clamping—includes base cabinet, plus a full-featured accessory kit for workholding, metalworking and no-mar protection!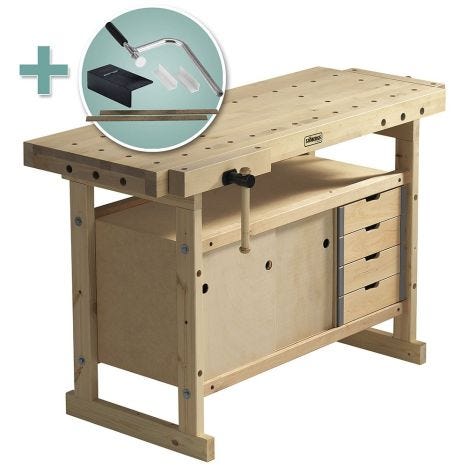 Additional Shipping and Handling Charge: $75
There is an additional $135.00 shipping charge for this item.
Ships directly from the manufacturer.
Must be shipped within 48 Contiguous United States.
Estimated Vendor Lead Time: 1-2 Weeks.
20% restocking fee on all returned merchandise.
Please call customer service before returning product.

The Sjobergs Nordic Plus workbench gives you the functionality and size you need at a price you can afford. With four standard vise locations—one on each end, and two along the front edge—the Nordic Plus is capable of securely holding almost anything. The vises can be rotated to suit left- or right-handed woodworkers, and they even can be positioned as dual front vises to hold extra-long boards for jointing, or as dual tail vises for an extended lengthwise clamping capacity of 63''. The top is constructed from solid Scandinavian birch, while the trestle is made from Nordic pine. With a thickness of just over 1'' in the center, and a skirt of 2-3/4'', the top is very rigid.
Features:
Powerful steel vise spindles can withstand up to 1300 kp of force (12748 N)
Vises have a 4-1/2'' opening capacity
Double rows of bench dog holes extend from all vise locations
Trestle is also pre-drilled with dog holes
Includes four 3/4'' round plastic/glass fiber bench dogs
This package includes the 0042 Cabinet, plus a full-featured Accessory Kit for workholding, metalworking and no-mar protection!
Cabinet helps keep your tools organized and free of dust and shavings, while also adding mass to your workbench to dampen vibration and reduce shifting. Made from birch and birch plywood. Sturdy drawers are made with box joints and slide smoothly on wooden runners. Sliding doors provide easy access to tools and can be left open without obstructing your movement. Accessory Kit includes swiveling holdfast, anvil for metalworking, aluminum jaw protectors and rubberized cork jaw cushions. ST03 holdfast with no-mar clamp pad can be used in any 3/4'' dog hole and swivels 360° to clamp anywhere on the benchtop or along the trestle legs. UA13 universal steel anvil slips into the dog holes along the edge of the benchtop for metalworking or to protect the top during heavy pounding. Aluminum jaw protectors prevent damage to the wooden vise jaws and provide a more rigid hold. Lastly, the JC11 self-adhesive jaw protectors are made from rubberized cork to protect the vise jaws and delicate workpieces.
(1) Sjobergs Nordic Plus Workbench 1450
(4) 3/4'' Plastic/Glass Fiber Bench Dogs
(1) Cabinet 0042
(2) Rubberized Cork Jaw Cushions
(2) Aluminum Jaw Protectors
(1) ST03 Hold-Down Clamp
(1) Universal Anvil

More Information
Brand
Sjobergs
Manufacturer Part Number
SJO-99831K
Tech Spec

Material: Birch top with pine trestle
Length of worktop: 52-3/4'' (1340 mm)
Total length: 57-7/8'' (1470 mm)
Width of worktop: 19-5/8'' (500 mm)
Total width: 24-3/4'' (630 mm)
Thickness of worktop (in middle): 1-3/32'' (28 mm)
Thickness of skirt: 2-3/4'' (70 mm)
Vise capacity: 4-1/2'' (115 mm)
Working height: 33-7/8'' (860 mm)