Timber Cast Casting Epoxy
Convenient kit includes everything you need—resin, hardener and pigment—for stunning, richly colored pours from 1" to 2'' thick in a single pour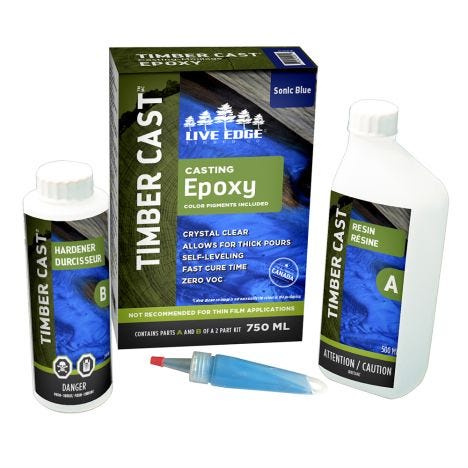 A complete casting epoxy kit with both epoxy and metallic color pigments. Timber Cast Casting Epoxy was created specifically for deep large volume pours. It is great for river and ocean tables, encapsulations and large castings. These higher volume pours will provide fast gel and cure times. Timber Cast provides excellent clarity and the ability to create deep pours from 1" to 2'' thick. Each kit includes metallic colour pigments in the color of your choice, which can be added as needed to achieve the desired color intensity. The epoxy can be used with or without the color pigments, and a combination of clear and colorful layers can also be used to create added visual depth. The product has a low viscosity allowing it to penetrate into the wood and allow for air that becomes trapped in the epoxy during mixing to escape from the epoxy. Made in Canada.
Features:
Allows for thick pours up to 2'' deep in a single pour
Simple 2-to-1 mix ratio by volume
Great for experienced and inexperienced users alike
Crystal clear when cured
Self-leveling formula
Up to 2 hours of working time
Designed specifically for river and ocean tables, encapsulations and high volume castings.
Fast gel and cure time when used for higher volume pours
It's low viscosity allows the epoxy to soak into wood and release air that becomes trapped during mixing (water like consistency).
May also be used to fill gaps, holes, and cracks (a longer gel and cure time are to be expected)
Note: Designed for pours of 1'' thick or greater. Less than 1'' thick will increase the gel and cure time. Not for thin film applications. Maximum pour thickness, working time, gel time, and cure time depend upon ambient temperature and mix volume.
Coverage: See the Specifications section for coverage per kit.
Timber Cast Casting Epoxy
(1) Container of Part A Resin
(1) Container of Part B Hardener
(1) Packet of Pigment
More Information
Brand
Timber Cast
Tech Spec

Gel Time*: 12 hours @ 26°C (78.8°F)
Cure Time*: 24 hours @ 26°C (78.8°F)
Mix Ratio: 2:1 (by volume)
Country of Manufacture: Canada

*Note: Maximum pour thickness, working time, gel time, and cure time depend upon ambient temperature and mix volume.

| Item Size | Square Inches | Square Feet | Thickness |
| --- | --- | --- | --- |
| 750ml | 23 | .16 | 2" |
| 1.5L | 46 | .32 | 2" |
| 3L | 92 | .64 | 2" |
| 6L | 183 | 1.27 | 2" |
| 750ml | 31 | .21 | 1.5" |
| 1.5L | 61 | .42 | 1.5" |
| 3L | 122 | .85 | 1.5" |
| 6L | 244 | 1.70 | 1.5" |
| 750ml | 46 | .32 | 1" |
| 1.5L | 92 | .64 | 1" |
| 3L | 183 | 1.27 | 1" |
| 6L | 366 | 2.54 | 1" |