Titebond Speed Set Wood Glue
Requires only 15 minutes of clamping time for increased productivity and less waiting.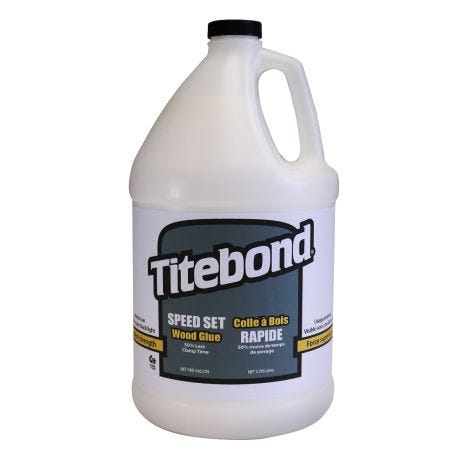 Titebond Speed Set Wood Glue is an extremely fast-setting, high solids PVA adhesive. Thanks to a shorter clamp time, you'll increase productivity, with no increase in viscosity. Speed Set wood Glue creates a bond stronger than the wood itself, and offers exceptional gap filling properties and excellent sandability. It is unaffected by finishes and is visible under black light to ensure no residual glue remains before finishing. Non-toxic and cleans up with water.
Features:
Extremely fast set—requires just 15 minutes of clamping time
Excellent strength and durability
Visible under black light for pre-finishing check
Unaffected by finishes
Heat- and solvent-resistant
Sands easily
Easy water cleanup
(1) Gallon Titebond Speed Set Wood Glue
More Information
Brand
Titebond
Manufacturer Part Number
4366
Weight
9.700000
Tech Spec

Application Temperature: Above 59°F
Open Assembly Time: 2-4 minutes (70°F / 50% RH / 8% MC)
Total Assembly Time: 8-10 minutes (70°F / 50% RH / 8% MC)
Minimum Required Spread: Approximately 6 mils or 250 square feet per gallon
Required Clamping Pressure: Use only enough pressure to bring joints tightly together (generally, 100-150 psi for softwoods, 125-175 psi for medium woods and 175-250 psi for hardwoods)
Cleanup: Damp cloth while glue is wet. Scrape off and sand dried excess
Limitations: Titebond Speed Set Wood Glue is not intended for exterior use or where moisture is likely. Not for structural or load bearing applications. Do not use when temperature, glue or materials are below 59°F. Agitate adhesive monthly to reduce product settling. Read SDS before use. KEEP FROM FREEZING. KEEP OUT OF THE REACH OF CHILDREN