Titebond® III Ultimate Wood Glue
A waterproof wood glue that's ideal for both exterior and interior woodworking!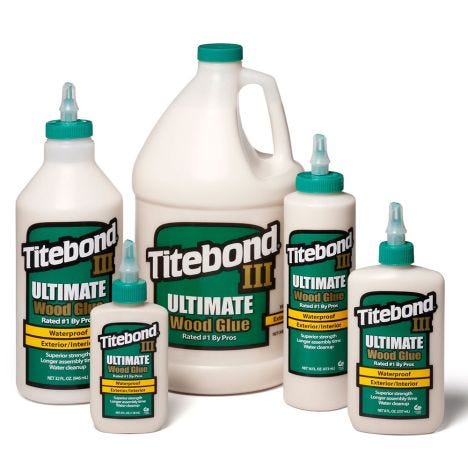 Titebond III Ultimate Wood Glue is an easy-to-use, one-part waterproof wood glue. The formula meets criteria for the ANSI/HPVA Type I water-resistance specification and offers superior bond strength, a longer open assembly time and lower minimum application temperature. It is non-toxic, non-foaming, solvent-free and cleans up with water. It provides strong initial tack, sands easily without softening and is FDA approved for indirect food contact (such as for cutting boards). Use on both interior and exterior projects.
Features:
Fast curing and cleans up with water when still wet
Less mess—does not foam
Easier to clean up and less expensive than polyurethane glues
Eight minutes of open assembly time for complicated glueups
Application temperature as low as 47°F
(1) Bottle of Titebond™ III Ultimate Wood Glue
More Information
Brand
Titebond
Tech Spec

Application Temperature: Above 47°F
Open Assembly Time: 8-10 minutes (70°F/50%RH)
Total Assembly Time: 20-25 minutes (70°F/50%RH)
Minimum Required Spread: Approximately 6 mils or 250 square feet per gallon
Required Clamping Pressure: Enough to bring joints tightly together (generally, 100-150 psi for softwoods, 125-175 psi for medium woods and 175-250 psi for hardwoods)
Method of Application: Plastic bottles for fine applications; glue may also be spread with a roller spreader or brush
Cleanup: Damp cloth while glue is wet; scrape off and sand excess once dried