Walrus Oil Cutting Board Oil
Food-safe blend imparts a silky feel, rich color and subtle shine to cutting boards, butcher blocks, and wooden countertops.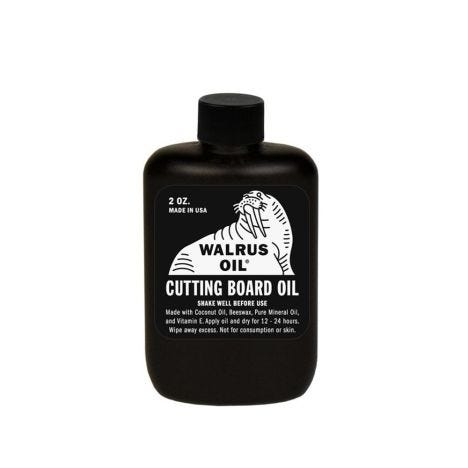 Walrus Oil® Cutting Board Oil is a handcrafted proprietary blend of coconut oil, mineral oil, vitamin E and beeswax. It is FDA approved for food contact surfaces such as cutting boards, butcher blocks and wooden countertops, does not solidify under normal conditions, is highly shelf stable and has virtually no scent. It goes on smooth, not too thick and not too thin, and won't impart a strange taste to food. It will leave your board with a silky smooth finish, rich color, and a little shine. Use two coats for more depth and color.
Features:
FDA approved for food contact surfaces like cutting boards
Easy to apply—just wipe on and let dry
Made in USA
(1) Container of Walrus Oil® Cutting Board Oil
More Information
Tech Spec

Brand: Walrus Oil
Dry Time: 24-48 hours
Country of Manufacture: USA