Wipe on to seal, protect and enhance the natural look and feel of the wood.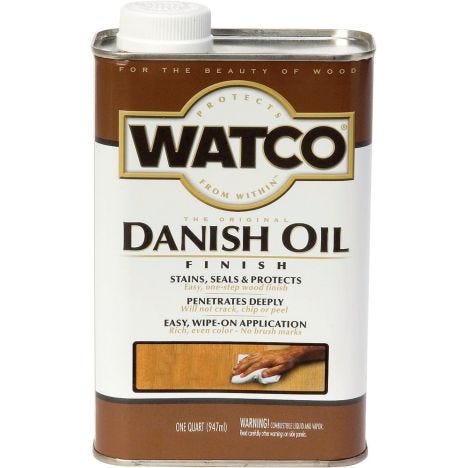 This finish soaks deep into wood pores to provide protection from the inside out. Because it hardens inside the wood, it will never chip, peel or wear away. Made from a unique blend of penetrating oil and varnish that stains, seals and protects in one easy step, it enhances the natural look and feel of the wood, and creates the rich, warm glow of a hand-rubbed finish. Great for furniture, trim, molding or any other bare wood interior surface. Simply wipe on with a brush or cloth. Quart.
(1) Watco Danish Oil Finish
More Information
Brand
Watco
Tech Spec

Use only on dry wood from which all previous coatings have been removed.
Flood surface using a brush or cloth, applying additional finish to areas that absorb all of the liquid.
Allow to penetrate for 30 minutes.
Reapply, allowing an additional 15 minutes of penetration.
Wipe surface completely dry.
Ready for use in 8-10 hours.
If a topcoat such as polyurethane is desired, allow oil to dry 72 hours before applying.
Coverage: 100-150 sq. ft. per quart.
Clean up with mineral spirits or paint thinner.

Color
Black Walnut, Cherry, Fruitwood, Golden Oak, Light Walnut, Natural, Red Mahogany
Size
Quart
Use
Interior
SPONTANEOUS COMBUSTION: This is a combustible product, dispose of product soaked rags in accordance with local ordinances.