Wide Tray for Rockler Lock-Align Drawer Organizer System
Ideal for storing larger items or to help fill out leftover space in a drawer—add components as needed for the ultimate in organization.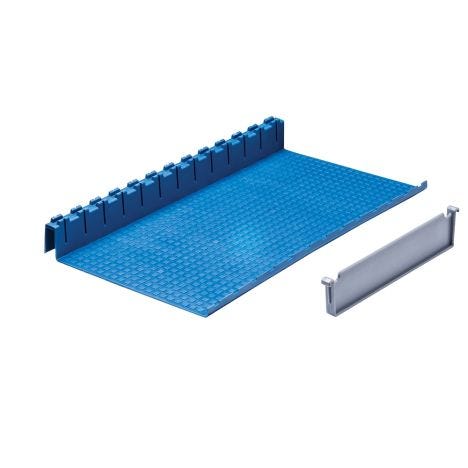 At 7-5/8'' wide, our Lock-Align Wide Tray section is perfect for storing larger items that wouldn't fit in the standard tray section. It's also useful for filling out certain drawer sizes. For example, if you have 6'' of the drawer left to fill, and you don't want the narrow compartment that would result from using two standard 3-7/8'' trays, the Wide Tray would provide a nice, usable space, and is easily trimmed to fit with a pair of scissors. Like the standard trays, the wide trays interlock side-to-side and line up end-to-end. The system is highly modular and is easily customized to your needs. Two standard trays are equal to the width of a single wide tray, meaning you can switch in the middle of a course from a single Wide Tray to two standard trays. In addition, two Bins (#53186, sold separately) will fit side-by-side inside the wide tray.
Features:
For use with the Rockler Lock-Align Drawer Organizer System (e.g. #56117, sold separately)
Trays interlock side-to-side and line up end-to-end to fill out drawers of any width or depth
Synthetic rubber material is easily cut to fit with an ordinary pair of scissors
Grid of cutlines on the back side ensures that the interlocking feature still works once the tray is cut
Add components as needed to fill out your drawer—interlocking components create a solid connection and ensure perfect alignment
Pliable synthetic rubber tray sections protect both your drawer and its contents—rubbery material helps to keep items from clanking around
Not just for the shop—can be used to declutter any drawer in your shop, home or office
Includes one Wide Tray section and one sturdy plastic divider
(1) Wide Tray (7-5/8''W x 13''L)
(1) Wide Divider
More Information
Brand
Rockler
Weight
0.900000
Tech Spec

Wide Tray Dimensions (nominal): 7-5/8''W x 13''L
Minimum Drawer Height: 1-5/8''
Tray Material: Synthetic rubber
Divider Material: Glass-filled ABS