Woodcarving by Numbers, 12pc Chisel Set with Instructional DVD
A phenomenal value comprising 12 high-quality carving tools with full-length solid beech handles, plus a bonus DVD and instructional booklet.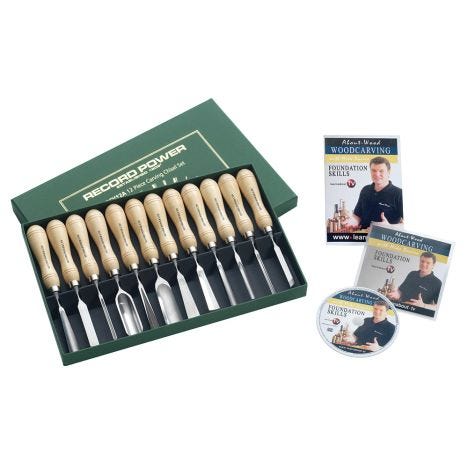 Whether you're an experienced carver, or are just looking to get started, this set of 12 carving tools will serve you well, at a great price. Not only are they quality tools with a wide range of profiles that are sharp out of the box, but they are also designed to work in harmony with the ''carving by numbers'' system originated by renowned woodcarver and educator Mike Davies. The included booklet and DVD from Davies will get you started. If you're already an accomplished carver, you'll appreciate the way the spring alloy steel holds a sharp edge and resists corrosion. The handles are solid beech in a comfortably contoured shape, and are full-length, meaning they are suitable for both hand and mallet work. A substantial tang secures the chisel blade into the handle, and is locked in place by a ferrule that helps prevent splitting.
About Mike Davies:
Mike Davies is an accomplished woodcarver who completed his apprenticeship in the United Kingdom and has created carvings for royalty, national trusts and private collectors. He has developed his successful ''carving by numbers'' system as a way of teaching novices to carve in an easy, logical way. The included DVD outlines his ''Significant Six'' carving techniques, which form the foundation for a huge variety of projects. With the included DVD and educational booklet, you'll soon be creating a variety of beautiful projects with just half a dozen techniques and a dozen carving chisels.
(8) Gouges (various sizes and sweeps)
(1) V-Tool
(1) U-Shaped Veining Tool
(1) Angled Chisel
(1) Straight Chisel
(1) Instructional DVD
(1) Instructional Booklet
(1) Storage Box
More Information
Manufacturer Part Number
77-001
Weight
3.250000
Tech Spec

Overall Tool Length: Varies by tool; approximately 9''
Handle Length: Approximately 5''
Handle Material: Solid beech
Blade Material: Spring alloy steel