Wooster Silver Tip Thin Angled Paint Brush
Thin cross-section with angle cut for corners—chemically-tipped polyester filaments are compatible with both oil- and water-based paints and clears.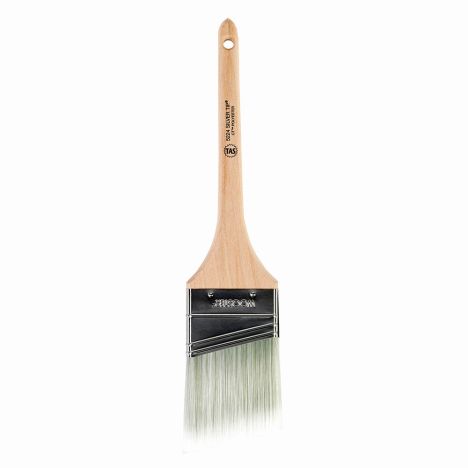 Wooster-exclusive CT™ (chemically tipped) polyester filaments are what give Silver Tip brushes their luster. These filaments have a full-body feel, yet they're very thin, flexible, and soft, which virtually eliminates brush marks. Their responsiveness and bend recovery is perfect for delivering sharp, single-pass cuts. Silver Tip brushes provide excellent leveling and smoothing with all paints, but are especially well-suited for applying enamels to metal, varnish or polyurethane on wood, and thinner water-based coatings.
Features:
White & silver CT polyester filaments for excellent leveling & smoothing
Soft yet responsive formulation with a feathery stroke
Stainless steel ferrule with hardwood handle
Thin bristle stack helps control drips and runs for trim work
(1) Wooster Silver Tip Thin Angled Paint Brush/Finishing Brush
More Information
Brand
Wooster
Tech Spec

Category Number: 5224
Brush Shape: Angle cut
Brush Width: 2''
Brush Thickness: 7/16''
Bristle Length: 2-7/16''
Bristle Material: CT™ (chemically-tipped) polyester
Ferrule Material: Stainless steel
Handle Material: Hardwood
Handle Shape/Style: Thin angle sash (narrow and tapered, with flats)
Use With: Oil- and water-based paint, varnish, polyurethane; well-suited for thinner water-based coatings