Wooster Ultra/Pro Firm Angled Paint Brush
A favorite of professionals for medium-weight oil- and water-based paints and finishes—angled cut is perfect for trim work.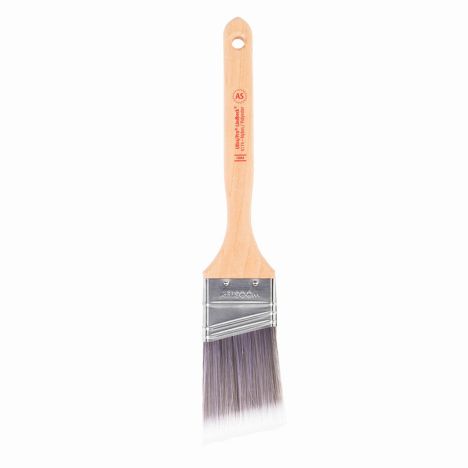 Ultra/Pro® Firm is a best-selling blend of nylon and polyester bristles, and a favorite of professional painters for over 25 years. An all-purpose professional brush, it's well-suited for medium-weight water-based paints like acrylic and latex, as well as oil-based enamels and clear finishes. Due to its firmness in higher temperatures, Ultra/Pro can be used either indoors or out. Painters love its smooth glide, balanced flex, fantastic coverage and masterful cut-in control, all of which save time and ensure sharp results.
Features:
Blend of purple nylon and sable polyester provides exceptional cut-in control
Synthetic bristles for medium-bodied water-based coatings like acrylic paints or latex enamels
Firm consistency works well in warm temperatures, indoors or out
Handle in Lindbeck™ angle sash brush style—slightly thicker for more paint holding ability
Sealed wood handle with rust-resistant ferrule
(1) Wooster Ultra/Pro Firm Angled Paint Brush/Finishing Brush
More Information
Brand
Wooster
Tech Spec

Category Number: 4174
Brush Shape: Angle
Brush Width: 2''
Brush Thickness: 9/16''
Bristle Length: 2-11/16''
Bristle Material: Nylon and Polyester
Ferrule Material: Steel
Handle Material: Wood
Handle Shape/Style: Angle sash
Use With: Oil-based and water-based clear finishes and paints, including acrylic, latex and enamel