Zinsser Bulls Eye® SealCoat
Guaranteed to be compatible with all finishes, Zinsser SealCoat won't raise the grain and dries in minutes.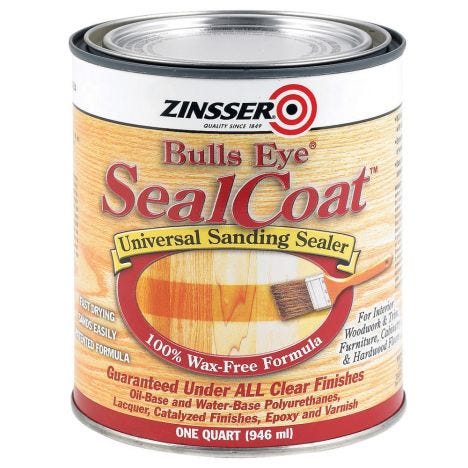 Shipping Restrictions: Ground Transportation Only
Please note that this item can only be shipped by UPS Ground to addresses within the continental United States other than California.
This item cannot be shipped to California.

Zinsser SealCoat is the only sanding sealer you will ever need! It gives depth and beauty to wood grain, and won't raise or swell the wood grain. 100% wax-free formula dries in minutes and sands easily. Zinsser Bullseye® SealCoat™ dries to the touch in 10 minutes and is ready to sand or recoat in 40 minutes! Plus it's compatible with all clear finishes. Easily cleans up with ammonia and water.
Zinsser SealCoat Features:
Fast drying pre-stain conditioner
Bond coat over stearated finishes
Gives depth and beauty to wood grain
Will not raise or swell wood grain
Will not turn yellow or darken with age
Can be applied in temps as low as 0 degrees Fahrenheit
(1) Zinsser Bulls Eye® SealCoat™, Quart
More Information
Brand
Zinsser
Manufacturer Part Number
ZI0854
Weight
2.100000
Tech Spec

Dust-free in 5 minutes
Dry to touch in 10 minutes
Ready to sand/recoat in 20-40 minutes
Compatible with all alkyd-modified polyurethane, water-base acrylic polyurethane, and catalyzed finishes.

Coverage
75-90 sq ft
Dry Time
20-40 min
Color
Clear
Size
Quart
Use
Interior