325-Piece Industrial Cotton Swab Assortment
A wide range of sizes, from jumbo 3/4'' swabs down to the usual sizes—great for detailed glue application, finishing touch-ups and cleaning.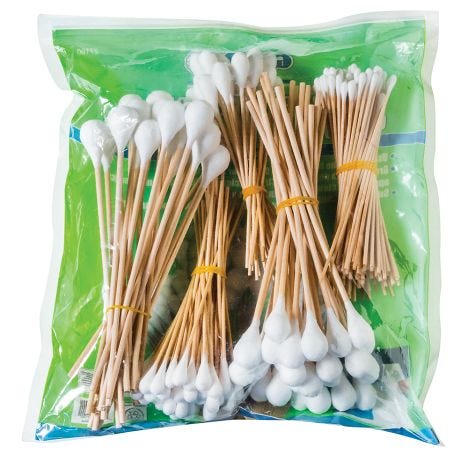 Disposable cotton-tipped swabs are useful in the wood shop for a wide range of detail-oriented tasks. Use them for applying glue to mortises and dovetail joints, or for cleaning up squeeze-out from tight corners. They're also an ideal solution for touching up chips or scratches in paint, varnish or stain, and for cleaning ornate brass hardware. Of course, they're also ideal for jobs around the house garage, like cleaning your computer keyboard, or detailing the dashboard in your car.
Features:
Low-lint cotton swabs tightly wrapped around a bamboo handles for extra rigidity
Useful for a wide range of tasks in the shop, home, office or garage
Assorted sizes. Approximate tip diameters may include, but are not limited to: 5mm (3/16''), 8.5mm (5/16''), 12mm (1/2''), 16mm (5/8'') and 20mm (3/4'')
Lengths up to approximately 7'' long
(1) 325-Piece Industrial Cotton Swab Assortment
More Information
Manufacturer Part Number
27190
Weight
0.550000
Tech Spec

Manufacturer Part Number: 27190
Material: Cotton tip with bamboo shaft
Approximate Diameters: Varies, but may include 5mm (3/16''), 8.5mm (5/16''), 12mm (1/2''), 16mm (5/8'') and 20mm (3/4'')
Maximum Length: 7''