Woodworking Clamps
Not every woodworking project can go into a vise for work. That's when a clamp comes in handy to hold two or more pieces of wood or other materials together while you work on them. Different clamps work well in certain situations. Our inventory includes many types of woodworking clamps:
Bar clamps
Pipe clamps
Spring clamps
Parallel clamps
F-style clamps
Quick action clamps
Corner clamps
Handscrew clamps
Straight edge clamps
Band clamps
Face clamps
Toggle clamps
Don't worry about keeping track of them since you can organize them in one of the many clamp racks we carry.
Regardless of skill level, woodworking clamps are essential tools to have around the workshop. But with so many clamp styles, sizes, and materials to choose from, which clamps are you most likely to use? It depends on what type of project or task you're trying to accomplish. You can never have too many clamps, but no one clamp is perfect for every project.
Read --> Choosing the Best Wood Clamp for Your Project
Watch our video below to learn which of these clamp styles suits your project.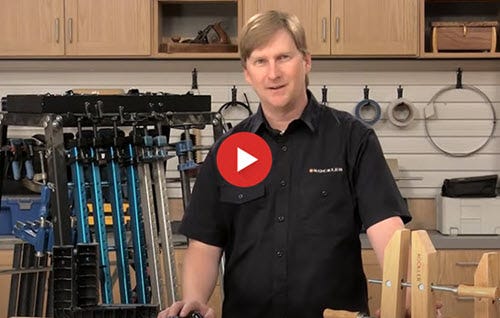 In this video, you'll learn the best woodworking clamps to use for the following:
Edge gluing panels
Face gluing
Assembling cabinets
Attaching edge banding
Securing jigs and work pieces
Clamping around parts