Bosch Progressor 5-10 TPI T-Shank Jigsaw Blades, 3-Pack
Variable TPI combines fast action with smooth cut quality, while bi-metal construction cuts both wood and metal!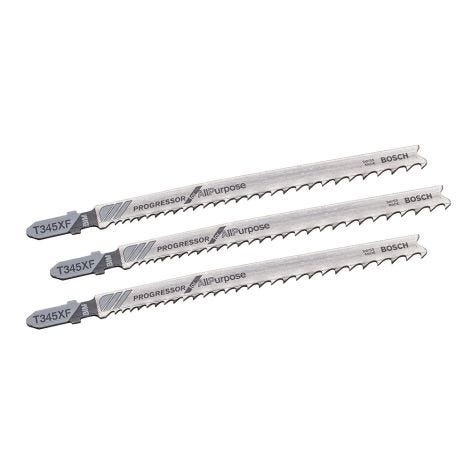 Bosch Progressor jigsaw blades feature a patented progressive tooth design for fast cuts and long life in both thick and thin materials. These all-purpose models feature bi-metal construction, which offer excellent performance for solid wood and plywood, as well as for metals and nail-embedded wood products. The T-shank design provides maximum grip and stability, and fits 90% of all current jigsaw makes and models.
Features:
All-purpose blade for various materials including wood with nails, plywood, particle board from 3/16'' to 3-5/8'' thick, metal from 3/16'' to 3/8'' thick, and non-ferrous metals from 5/64'' to 1-1/4'' thick
5-10 TPI progressive tooth design for fast cuts and longer life in varied thicknesses
Bi-Metal construction for durability and long life
5-1/4'' overall length; 4-1/4'' working length
(1) 3 Pack of Bosch Progressor 5-10 TPI T-Shank Jigsaw Blades (T345XF3)
More Information
Brand
Bosch
Manufacturer Part Number
T345XF3
Weight
0.050000
Tech Spec

Type: Progressor for All
Teeth Per Inch: 5-10 progressive
Quantity: 3
Application: Thick and thin materials like wood with nails, plywood, particle board 3/16''-3-5/8'', metal 3/16''-3/8'', non-ferrous metal and aluminum 5/64''-1-1/4''
Tooth Design: Side set and milled
Material: Bi-Metal
Working Length: 4-1/4''
Overall Length: 5-1/4''
Blade Thickness: 0.05''
Blade Height: 0.39''

Material Cutting
Aluminum, Brass, Bronze, Composites, Hardwood, Laminate, Laminated Boards, Melamine, Metal, Nails, Plywood, Sheet Goods, Sheet Metal, Softwood, Veneered Plywood, Wood, Wood Composites