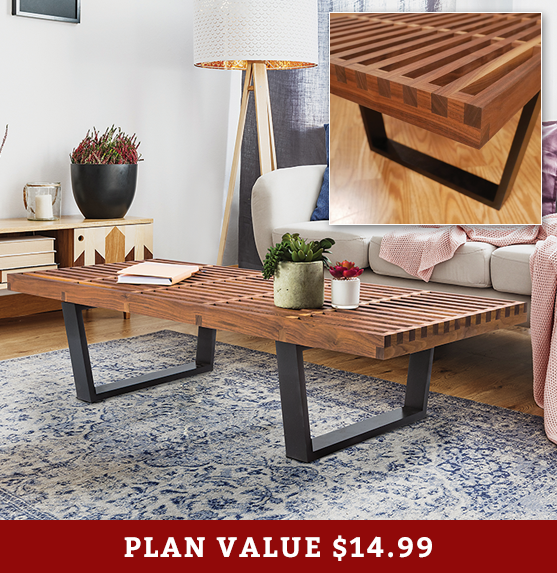 Modern Coffee Table Plan
Inspired by the classic George Nelson design, the clean lines and striking geometry, of this coffee table will lend iconic midcentury modern style to any living space. And you can build it yourself with a few basic tools and step-by-step project plan.
The key to this project build is cross lap joints and making them is a breeze with Rockler's innovative Cross Lap Jig. Screw it to your miter gauge and use it with your table saw and a dado stack to cut uniformly spaced lap joints for latticework, wine racks, torsion boxes, shoji screens and more!
The jig's indexing key is width-adjustable for stock ranging from 1/8'' to 3/4'' wide. The distance from the indexing key to the blade determines the spacing of your grid, and is easily adjustable with the ergonomic knobs. Simply make your cut, push the key into the kerf you just made, and then make the next cut.

Download Free Plan
In this video learn how to set up and cut coffee table lap joints using Rockler's Cross Lap Jig.
In this video, Rob Johnstone walks you through building this modern coffee table step-by-step.