CNC Router Essentials, Paperback Book
The user manual you always wish you had for your CNC router—clear, concise and easy-to-understand.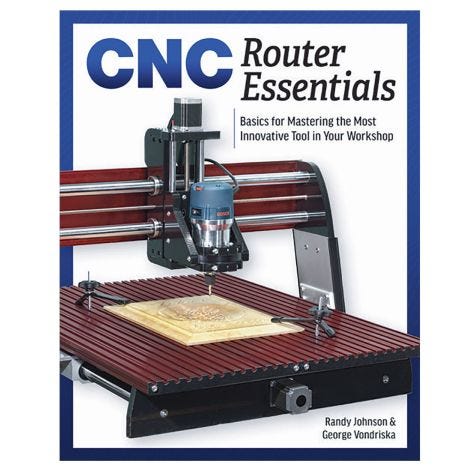 CNC machines are now easier to use, less expensive to purchase, and allow you to do an incredible variety of amazing projects. The trick is knowing how to get it to do what you want. That's where CNC Router Essentials is an invaluable tool. Veteran woodworkers Randy Johnson (CNC instructor and former Editor in Chief of American Woodworker) and George Vondriska (of Fine Woodworking, WOOD, and the WoodWorkers Guild of America) walk you through learning to use this game-changing woodworking machine. Project design essentials, toolpath basics, machine setup, bit selection, and more are all explained in an approachable and easy-to-understand format. Helpful practice projects in 2-D and 3-D will ensure that you've grasped the basics of this versatile tool, while the gallery photos will inspire you to create your own imaginative designs.
Inside you'll find:
Fundamentals on machine use and project design
Pro advice on bit selection and understanding toolpaths
Practice projects in 2D and 3D
Inspiring gallery of projects to fuel your creativity
(1) CNC Router Essentials, Paperback Book
More Information
Manufacturer Part Number
10126
Weight
1.000000
Tech Spec

Brand: Cedar Lane Press
Manufacturer Part Number: 010126
Format: Paperback/softcover
Page Count: 144