Complete Table Saw Book, Revised Edition, Paperback Book
A step-by-step illustrated guide to essential table saw skills, techniques, tools and tips—also includes 9 projects to put your skills to use!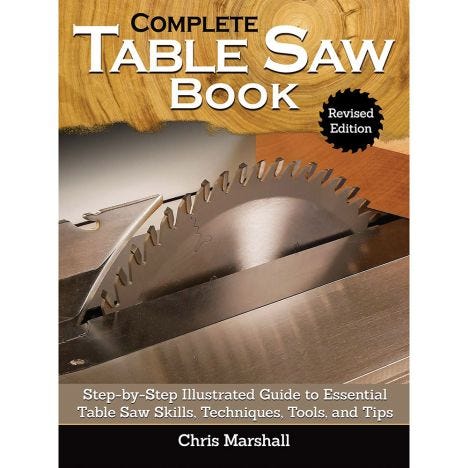 Whether you've just unpacked your first table saw or have been using one for years, this complete guide features essential and up-to-date information needed to set up and tune your table saw and expand your table saw skillset. Covers all of the most critical table saw techniques, including preparing lumber, selecting and truing blades, mastering basic to advanced cuts, and joinery techniques. Also included in this revised edition is exclusive information on new SawStop technology. With step-by-step instructions and detailed diagrams, you'll also complete nine custom table saw projects to put all your acquired techniques and skills to use, four of which are brand new in this revised edition.
Table Saw Book Details:
More than 600 photographs and illustrations show you how to use and maintain your table saw
9 custom projects to apply your table saw skills, 4 brand new to this Revised Edition
Clear explanations for a variety of table saw techniques
Updated information on new SawStop technology, with a look at the Jobsite Saw Pro
Projects include a sheet goods cart, mobile base, outfeed cart, base cabinet, wall-hung cabinet, country cupboard, bookcase, walnut writing desk, and walnut desktop console
(1) Complete Table Saw Book, Revised Edition, Paperback Book
More Information
Manufacturer Part Number
9.78E+12
Weight
2.200000
Tech Spec

Brand: Fox Chapel Publishing
Manufacturer Part Number: 9781497101173
Format: Softcover
Page Count: 280