Door Mount Spice Racks, Rev-a-Shelf 4SR Series
Door mounted maple/birch spice rack with three shelves, in three sizes. For wall cabinets 15", 18", and 21" wide. Requires 4-1/2" clearance behind door.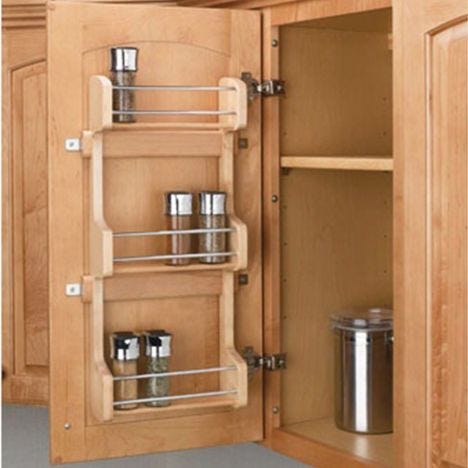 Maintain shelf space and keep spices reachable in Rev-a-Shelf's Wood Classic Door Mount Spice Rack. Made of attractive birch/maple hardwood, this storage saver is available for Wall 15", 18" and 21" cabinets. Spice rack has three shelves that allow you to neatly organize and tuck away spices where you want them! Requires 4-1/2" of clearance behind door (existing shelves must be modified to allow for spice rack). Durable wood construction with chrome rail accents for easy spice viewing. Mounts to cabinet door with only 4 screws. Door mount brackets with up to 5" of adjustability.
(1) Door Mount Spice Racks, Rev-a-Shelf 4SR Series
More Information
Brand
Rev-A-Shelf
Tech Spec
Item #56883 (9-5/8" Wide Door Mount Spice Rack, Wood - Maple):

Dimensions: 9.625"W x 21.5"H x 3.125-3.123"D
Min. Cab. Opening: 10.12"W x 21.5"H x 3.125"D


Item #56891 (12-5/8" Wide Door Mount Spice Rack, Wood - Maple):

Dimensions: 12.625"W x 21.5"H x 3.125"D
Min. Cab. Opening: 13"W x 21.5"H x 3.125"D


Item #56899 (15-5/8" Wide Door Mount Spice Rack, Wood - Maple):

Dimensions: 15.625"W x 21.5"H x 3.125"D
Min. Cab. Opening: 15.934"W x 21.5"H x 3.125"D




Limited Lifetime Warranty