Easy Wood Tools 6602 Mid-Size Easy Hollower #2
Curved neck for easy hollowing of turned vessels — flat 3/4'' wide tool bar provides excellent stability on the tool rest.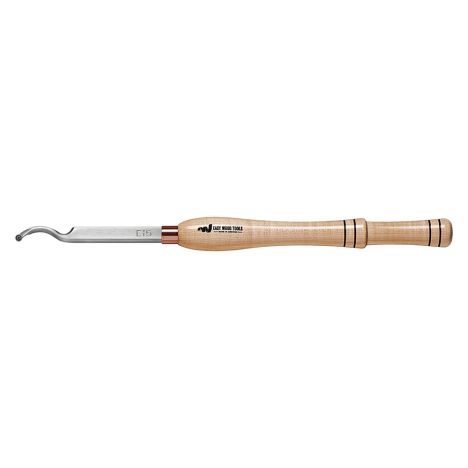 Easy Wood Tools' line of hollowing chisels provides a convenient, effective method of under-cutting hollow forms and vessels. They are perfect for hollow vessels with a wide body and a narrow opening. The tools are available in three shapes: #1, #2 and #3. The #1 tool is the straightest, and does the preliminary hollowing, followed by the #2 tool, which is more curved to hollow the sides. The #3 tool has the most extreme curve, allowing it to turn the corner and undercut the rim of the vessel. With these patented tools, you'll achieve professional hollowing results with minimal effort. Each tool is CNC machined from solid stainless steel plate on every face except for the bottom. The compatible replacement carbide number is engraved directly into the tool bar. Available in three sizes: Mid-Size, Full-Size and Pro-Series, which is the largest. Made in USA.
Features:
Slightly curved neck for secondary hollowing of turned vessels
Tried-and-true round carbide cutters are rotatable and replaceable
Ultra-wide tool bar provides excellent stability when in contact with the tool rest, helping to eliminate rotational forces
Handles are finished with an 8-step spray process and hand-rubbed lacquer for a shine and beauty that will last
Easy Grip handles with two-position grips for comfortable and stability
Stainless steel tool bars will never rust; solid copper ferrules add strength and beauty
(1) Easy Wood Tools 6602 Mid-Size Easy Hollower #2
(1) Ci5 round carbide cutter with screw (pre-installed)
(1) Hex key
More Information
Brand
Easy Wood Tools
Manufacturer Part Number
6602
Weight
1.300000
Tech Spec

Handle: 14'' maple
Tool Bar: 3/8'' x 3/4'' x 3-1/2''
Overall length: 21-1/2''''
Max Reach: 4''