Easy Wood Tools Easy Chucks
Snap Lock jaw mounting lets you change jaws in less than 30 seconds — open and close the jaws with just a twist of the Zoom Ring!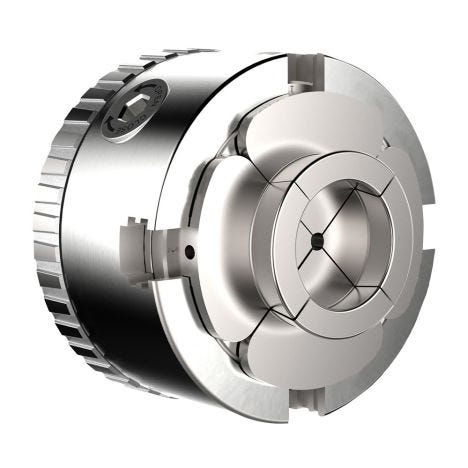 Two spectacular features make the Easy Chuck stand out from the crowd. First, a simple twist of the Zoom Ring at the rear of the chuck body lets you rapidly open and close the jaws. This makes it far easier to secure your work, since you don't need to juggle the chuck key and your workpiece at the same time. Second, Snap Lock technology lets you change the jaws in seconds rather than minutes. No need to fumble with screws—to install the jaws, just slide them into the channel until you hear the click. To release them, press the key into the hole to release the catch. These two groundbreaking features are fortified by a foundation of more straightforward ones: sturdy construction, excellent fit and finish, and admirable gripping power on the lathe.

Features:
Rugged four-jaw chuck clamps down on all four sides for unfailing holding power
Zoom Ring lets you quickly adjust the jaw opening with just your fingers (use the chuck key for final tightening)
Just a few rotations of the Zoom Ring move the jaws from fully open to fully closed
Easy Jaws snap securely in place and release quickly with the included tool
Dovetail jaws are held in place by sturdy channels in the chuck body, not screws, which are prone to shearing
Easy Jaws feature rounded corners for less chance of injury to your knuckles
Easy Jaws are hardened and corrosion resistant for excellent durability
Includes double-ended Easy Chucking Screw with 3/8'' and 1/2'' diameters
Includes 1-3/8'' Easy Jaws, which accommodate bowls and platters up to 6'' in diameter (other jaw sizes available separately)
(1) Easy Wood Tools Easy Chuck
More Information
Brand
Easy Wood Tools
Tech Spec
Item #: 45290 (C2000 1-1/4'' x 8 TPI Easy Chuck)

Threading: 1-1/4''-8
Grips Tenons Down To: 1-3/8'' diameter (with included jaws)
Expands into Recesses Up To: 2-1/8'' diameter (with included jaws)
Jaw Length: 7/16'' (included jaws)


Item #: 45290 (C1000 1'' x 8 TPI Easy Chuck)

Threading: 1''-8
Grips Tenons Down To: 1-3/8'' diameter (with included jaws)
Expands into Recesses Up To: 2-1/8'' diameter (with included jaws)
Jaw Length: 7/16'' (included jaws)