Freud #87-108 8-Piece Signmaking CNC Router Bit Set
Eight CNC router bits thoughtfully chosen to satisfy your signmaking, lettering and engraving needs.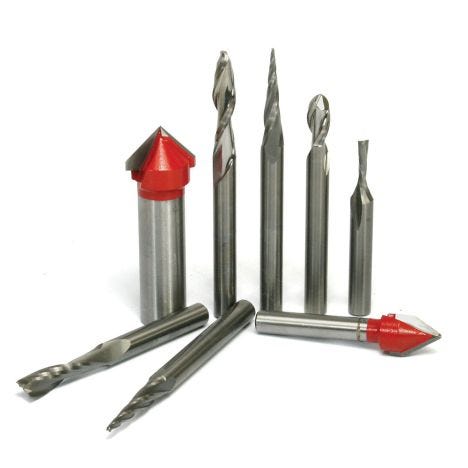 The eight bits in Freud's #87-108 CNC Signmaking Router Bit Set have been chosen specifically for the needs of signmakers, yielding crisp text and engravings in a wide variety of materials. The set includes two carbide-tipped V-groove bits 60° and 90° and six solid carbide bits: two 1/4'' Ball-Nose Up-Cut Spirals, 1/32'' and 1/16'' Tapered Ball-Tips, a 1/4'' Up-Spiral and an 1/8'' Down-Spiral.
Freud #87-108 8-Piece Signmaking CNC Router Bit Set
(1) Freud #72-101 Ball-Nose Up-Cut Spiral Solid Carbide CNC Router Bit, 1/4'' Dia. x 1/2'' H x 1/4'' Shank
(1) Freud #72-202 Ball-Nose Up-Cut Spiral Solid Carbide CNC Router Bit, 1/4'' Dia. x 1-1/8'' H x 1/4'' Shank
(1) Freud #72-300 Tapered Ball-Tip Solid Carbide CNC Router Bit, 1/32'' Dia. x 1'' H x 6.2° x 1/4'' Shank
(1) Freud #72-400 Tapered Ball-Tip Solid Carbide CNC Router Bit, 1/16'' Dia. x 1'' H x 5.4° Taper x 1/4'' Shank
(1) Freud #75-102 Up-Spiral Router Bit, 1/4'' Dia. x 1'' H x 1/4'' Shank
(1) Freud #76-100 Down-Spiral Router Bit, 1/8'' Dia. x 1/2'' H x 1/4'' Shank
(1) Freud #20-108 V-Grooving Router Bit, 3/4'' Dia. x 1/2'' H x 90° x 1/2'' Shank
(1) Freud #20-152 V-Grooving Router Bit, 1/2'' Dia. x 1/2'' H x 60° x 1/4'' Shank
More Information

| | |
| --- | --- |
| Brand | Freud |
| Manufacturer Part Number | 87-108 |
| Weight | 0.900000 |
| Tech Spec | Material: Solid Carbide and Carbide-Tipped |