Achieve ultra-fast water-clear finishes and repairs of dings and dents—Thin formula penetrates dense woods and tight grain.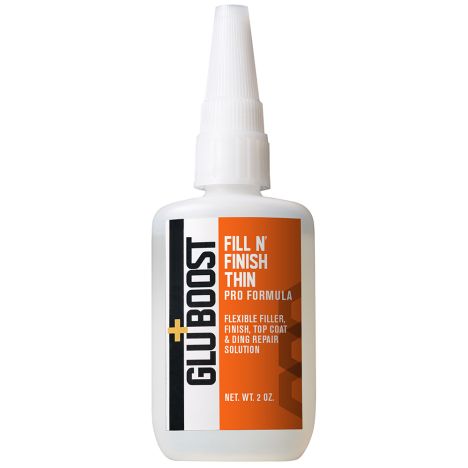 GluBoost Fill n' Finish is specifically designed to provide spectacular, water-clear finishes, as well as seamless repairs of dings and dents. Just apply the Fill n' Finish with a rag, then spray on the Accelerator (#65107, sold separately) for a nearly instantaneous cure. Unlike ordinary CA glue, Fill n' Finish stays liquid until the Accelerator is applied, giving the finish plenty of time to self-level. This means no ridges or ''witness lines,'' and abundant flexibility in applying the finish. Fill n' Finish can also be used to fill pores on open-grained hardwoods such as oak and walnut. It's flexible, so it will move along with seasonal wood movement, and is compatible with nearly any type of wood finish.
Features:
Achieve an ultra-fast, water-clear finish that enhances grain and chatoyancy (shimmer)
Repair dents, dings and cracks—boasts superior drop-fill capabilities
Ideal for turnings, repairs and restorations
Self-leveling formula won't leave ridges
Safe for use with a wide range of finishes: nitro, lacquer, polyurethane and more—shoot lacquer right over Fill n' Finish with excellent results
Includes anti-clog cap with pinpoint tip
Note: Use with GluBoost Accelerator (#65107, sold separately).
More Information
Tech Spec

Viscosity: Standard
Color: Clear